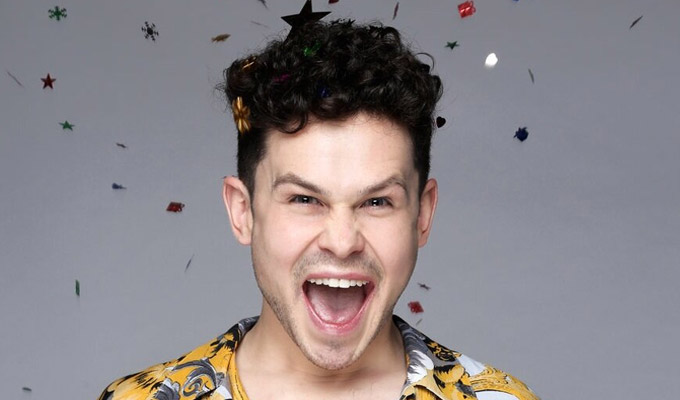 Mr Henry Moss; Quadruple Thre4t
Someday, Henry Moss might turn out to be a West End musical star – but based on this ultra-theatrical but gossamer-thin one-man show, it's harder to see him as a comedian.
In Quadruple Thre4t, he portrays a series of characters – if that's not to fancy a word for these lazy, over-familiar, stereotypes – presented under the guise of a 'Shed Talk'. Shed is apparently an acronym for 'self-help in the entertainment division', but that's not important. Nothing really is in these 50 minutes.
His main character is an actor called Harry Ledgerman, who is – surprise – vacuous, arrogant, self-absorbed, precious, demanding, out-of-touch… all the clichés. There's also his agent and wife, the useless and shallow Krystal Lee; plus a useless and shallow motivational speaker and a useless and shallow dating guru. All of whom are pretty lazy comedy constructs, and none of whom have any jokes, per se, just an obliviousness to their shortcomings, however large they are writ.
All, though, are prone to either entering the stage to a show tune or chart banger, or dropping into one at the drop of a hat. Or without even that prompt, so keen is Moss to show off.
As well he might. He's got a strong voice and all the tracks are choreographed with tight but exaggerated dance moves. The numbers project a look-at-me stereotype that fuels a high camp defining the show. The audience – full of actors, based on a straw poll - loved it.
His characters' situations occasionally change on a whim – to suggest this amounts to some sort of plot would be overstating the case – but all is always resolved with an empowering number from the Pride playlist. The likes of This Is Me, Man! I Feel Like A Woman, She Bangs - or, for a change of pace, Send In The Clowns. As performed by Judi Dench, in a winning, if out-of-place impression.
You've heard of jukebox musicals; this is a jukebox comedy show. Moss is an entertaining performer – a bit too 'tits and teeth', maybe, but the showmanship is effective. However, he needs a more robust vehicle for his talents than this parade of one-dimensional, underwritten characters.
Review date: 23 Feb 2020
Reviewed by: Steve Bennett
Reviewed at: Vault Festival
Recent Reviews
What do you think?