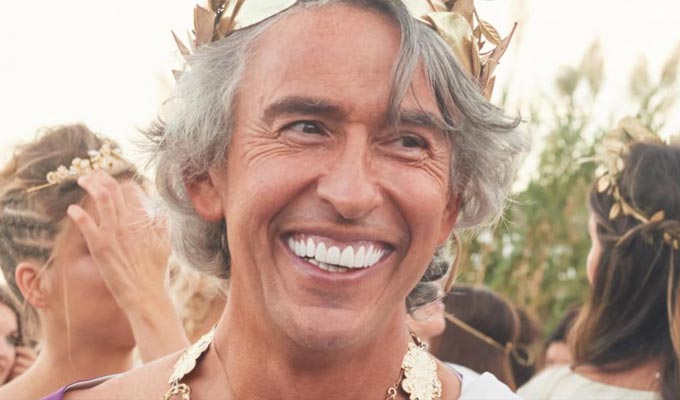 Greed
Steve Coogan's collaborations with writer-director Michael Winterbottom tend to focus on brash, self-made men who forge a glamorous myth of themselves.
From maverick record producer Tony Wilson in 24 Hour Party People, Tristram Shandy, the ultimate unreliable narrator in A Cock And Bull Story, through porn baron Paul Raymond in The Look of Love, right up to 'Steve Coogan' in The Trip, these inveterate egotists are united by their appreciation of the finer things in life, displaying a certain chippiness, ambition and flexible relationship with the truth to acquire them.
Yet the portrayals of these rough diamonds have generally been sympathetic. Which makes Greed something of a change of direction. From its opening and closing titles, Winterbottom is determined to join all the dots in the audience's mind between sweatshop labour, financial chicanery and the lavish lifestyle of a fast fashion mogul.
Indeed, so blatantly is Coogan's Sir Richard McCreadie based on Topshop tycoon Sir Philip Green, that it's the departures from his tarnished reputation that are most telling.
If Greed were only as unsubtle and flash as its protagonist, the film would be passable entertainment. Yet disappointingly, it wastes a who's who of British comedy on a script that struggles to register as satire, woefully devoid of witty lines. The characterisation rarely extends beyond caricature. And little in the script out-strips the already much-publicised genuine excesses of the super-rich.
Licking his wounds from a parliamentary grilling about one of his failed businesses, 'Sir Greedy' is preparing an image overhaul with an extravagant 60th birthday party on the Greek island of Mykonos, complete with gladiatorial arena, lion, highly paid celebrity guests and Syrian refugees awkwardly camping on the beach below.
The symbolism of the toga party is obvious, even if it's taken straight from Green's own 50th birthday celebrations. But just in case the audience are unclear, David Mitchell's journalist, Nick, is on hand to explain Ozymandias and the definition of 'hubris' for the harassed party organisers, led by Sarah Solemani as McReadie's efficient PA. Still, most of the characters' cultural touchstone for the event remains the movie Gladiator.
Typecast as his awkward but decent self, making feeble jokes that he instantly regrets, Mitchell is supposed to serve as the audience's proxy. Hired to write a favourable biography of the bullying, braggart tycoon, the scales fall from his eyes when he visits the Sri Lankan factories that make McReadie's clothes and a straight-talking financial expert (The Thick of It's Paul Higgins, enjoyably intense), who lays bare McReadie's tax dodges in a Big Short-style interview.
Others in McReadie's inner circle include Isla Fisher as his ex-wife and ongoing business partner Samantha, Shirley Henderson as his down-to-earth Irish mother and Sex Education's Asa Butterfield as his brooding son, nursing Oedipal yearnings towards his father and McCreadie's current model girlfriend (Shanina Shaik).
There is a suggestion that Nick might enjoy a romance with one of McReadie's put-upon employees, Amanda (Dinita Gohil), perhaps working with her on an exposé of his exploitative practices. But if that was ever on the cards, Winterbottom and The Thick of It scribe Sean Gray ditch it for a more straightforward comeuppance plot clumsily signposted towards its denouement.
Symptomatic of their own greed to pack the film full of heavy-handed moralising is an entirely superfluous sub-plot with McReadie's daughter (Sophie Cookson), concurrently shooting a vapid reality show around the celebrations.
Flashing back and forwards between Mykonos and McReadie's ascent up the greasy pole of capitalism, via his public schooldays where he perfected the arts of deception and his mutually lucrative relationship with Samantha, the film editorialises with a market stall trader bullishness and tired soundtrack comprising the likes of London Calling, and Money (That's What I Want).
The film's best jokes are about celebrities financially prostituting their integrity for McCreadie, the superficiality of his charm transparent beneath his flowing locks, perma-tan and impossibly white teeth.
It's a little unsettling to see Caroline Flack open the film. And James Blunt is endearingly self-mocking, even if poor editing lessens the impact of his cameo. Playing himself as the party's master of ceremonies, Stephen Fry appears suitably bemused as to what he's lowered himself to. However, that's a feeling that could extend to the rest of the cast, mindful of the talent underused here.
As site manager for the gladiatorial amphitheatre, Tim Key is asked to do little but swear with escalating intensity at his Greek and Bulgarian underlings, each subsequent scene eliciting diminishing returns. Charlie Cooper meanwhile, just has to stand and take a bollocking from Coogan, barely required to move a muscle.
Elsewhere, Asim Chaudhry, Jonny Sweet, Jessica Fostekew and Will Smith are among others who, in the main, just get shunted forward like mannequins to be abused before as soon departing.
Much has been written about Sony Pictures forbidding the naming of names in the fashion roll call of shame closing the film. Instead, Winterbottom makes do with damning statistics of exploitation and inequality, reinforcing that, as consumers, we are all culpable in nurturing market conditions where the McReadies of this world thrive and people in far-off countries die stitching jeans.
Interestingly, with sex assault charges against Green recently dismissed, Coogan isn't prompted to add lasciviousness to his character's unsavoury traits. As one wonders how much this film overlaps with Coogan and Winterbottom's upcoming Trip To Greece in terms of inspiration, one also wonders if the actor is keeping a little powder dry for his future #MeToo comedy-drama with Solemani on Channel 4.
• Greed is on general release from today.
Review date: 21 Feb 2020
Reviewed by: Jay Richardson
Recent Reviews
What do you think?