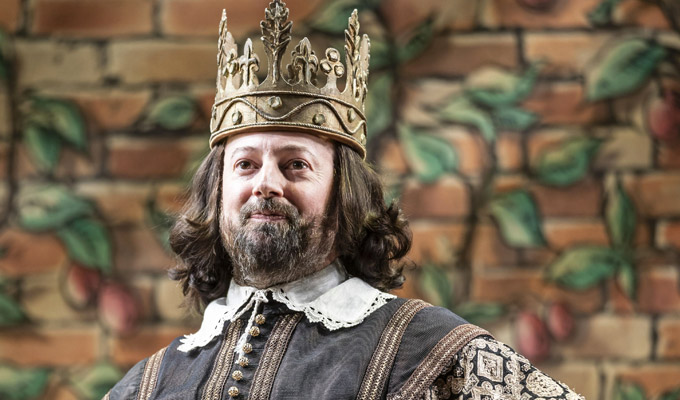 Upstart Crow in the West End
With the Only Fools musical and now Upstart Crow, are sitcoms slowly taking over London's West End?
But while Ben Elton's Shakespearean comedy marked a return to form for him as a TV writer, extending the premise into a two-hour stage show feels like a stretch too far.
A game cast – including an impressive David Mitchell and a phenomenal Mark Heap – breathe life into proceedings, and ultimately make it work, but there's a lot of lull as the in-jokes are repeatedly hammered into the ground.
Fans of the TV series – the entire audience tonight given the resounding cheer that greeted each character's appearance on stage – will already know that Upstart Crow's core is the overlaying of modern sensibilities on to 16th and 17th Century ones.
Gags about the huge plot holes in Shakespeare's works, from an eye mask being a brilliantly effective disguise, to the convenience of interchangeable twins, to the assumption hiding behind a small shrub makes you invisible, remain the highlights.
Meanwhile Elton also drops every woke cause into the mouths of his characters to the point where amusing anachronism becomes a checklist of pat PC phases, from 'gender fluidity' to 'toxic male entitlement'. We're asked to consider, albeit fleetingly, the 'personal agency' of the Bard's female characters; the whitewashing of black, Asian and minority ethnic characters from the history books; and whether white writers should be able to tell the stories of black characters. Though for all Elton's superficial acknowledgement of the woke, the audience laughs hardest when a character announces he 'identifies' as what he's not – a lazy, ubiquitous joke always used to belittle trans people.
There is one essential bit of identity politics at the core of the Upstart Crow stage show, though, and that's how closely actors need to be the roles they are portraying. That's because the main play Elton's chosen as his template here is Othello, adding race to his usual gag of poor Kate, being unable to pursue her acting dreams because she's a woman. Or rather because she doesn't have any 'Bollingbrookes', to use one of the many, many childish euphemisms Elton loves so much.
There's a touch of King Lear to the plot, too, as Shakespeare divvies his estate into three, to be split between his two real daughters – Helen Monks from the telly version plus newcomer Danielle Phillips, both sporting exaggerated comedy Brummie accents – and the loyal Kate (an always game Gemma Wheelan). Meanwhile, Twelfth Night is mixed into the Othello story via the identical twins Arragon and Desiree (Jason Callender and Rachel Summers), Egyptian nobility washed up on to the shores of Britain. It's possible these were all potential storylines for the fourth series of the TV show, before it was axed, but here they are all smooshed into one.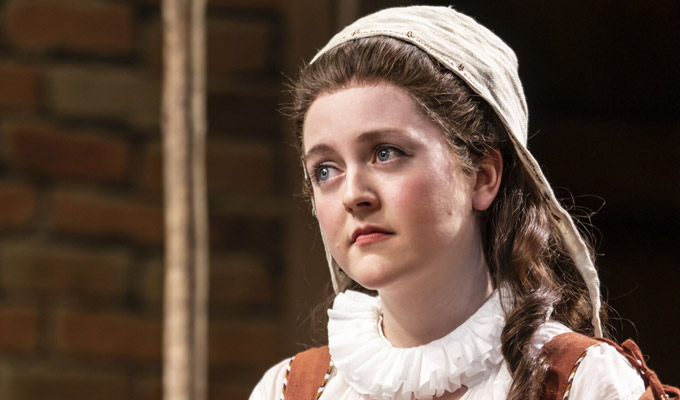 Some jokes are great, many less so in a script that seems to have lax quality control. Sarcastically assuming a future where all the ills of the Elizabethan era (or technically the Stuart one in the stage incarnation, set after the death of Good Queen Bess) will have vanished is a bit tired, but Elton has fun with the never-ending engineering works that beset the coaches betwixt Stratford and London.
Whatever its flaws the play was lapped up by the opening-night audience, and serves a great vehicle for Mitchell. In his West End debut, he gets the chance to show a range beyond his default as a superior brain comically harangued by hoi polloi that could line him up for a real Shakesperean role, should he choose.
Heap is show-stealingly fantastic, though, as the Puritan – sorry 'Pure Titty' in Elton's phrasing – whose loins stir every time he sees a woman, prompting him to self-punish for such ungodly thoughts. The increasingly stupid 'puffling pants' and codpiece he has to wear is a cheap but effective visual gag, while his intense performance steals the relatively few scenes he's in – like Rik Mayall's Flashheart stole Blackadder.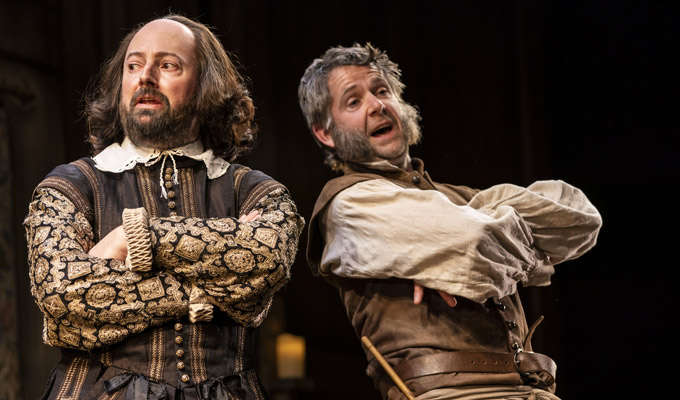 From the telly, Steve Speirs returns as Burbage, an actor of Brian Blessed like subtlety, and Rob Rouse as the blunt-talking servant Bottom, always bringing his master down a peg or two.
The skilled cast – with the aid of director Sean Foley, the go-to guy for any West End comedy – flesh out the lines expertly, and once the script returns its focus to the main story, it becomes engaging once more, making the conclusion seem like a triumph.
But Shakespeare, it ain't.
• Upstart Crow is booking at the Gielgud Theatre, London, until April 9. Tickets
Review date: 18 Feb 2020
Reviewed by: Steve Bennett
Reviewed at: Gielgud Theatre
Recent Reviews
What do you think?