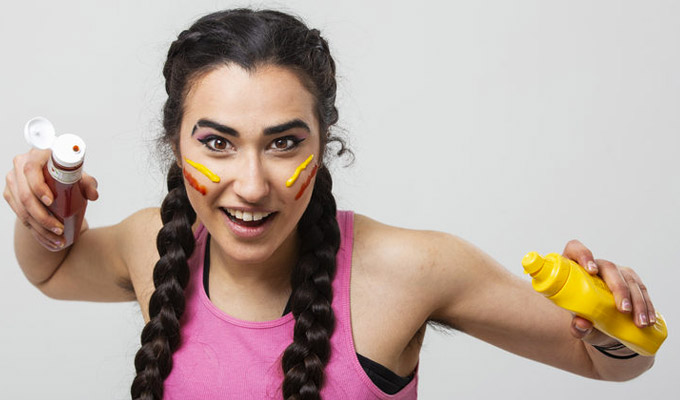 Oddball
With Oddball, Francesca Forristal takes on the topic of eating disorders with the intention of 'exploring thought processes which don't always make sense from the outside'.
While this manic one-woman theatre piece offers some first-hand insight into the mental health issues she has lived with, it becomes a little too manic and disjointed in its chaotic onslaught of fragmented sketches, songs and monologues to completely untangle what was going through her mind. Screwball humour becomes a way to avoid the subject rather than illuminating it.
But she is rather good at performing it, and there are some wonderfully funny sections especially as she sets up the framing device of an impending third date. Emily is a promising romantic prospect following a string of disasters, whom Forristal introduces us to through a witty montage that displays her mastery of character work, conjuring up such personalities as the self-important art bore or the creepily earnest bloke who saw her torment as 'sexy sad porn', and himself as the gallant knight to take it on.
Of course, a date means a meal, and a meal means confronting her demons – a phrase which may be a cliché, but even she sees her vegan mince as a satanic entity. It's not the only inanimate objects she gives a personality to, as her FitBit becomes a cypher for her inner voice, forever counting calories and steps until it becomes a toxic fixation.
As a lover of musical theatre, Forristal, drops into bite-sized parody very freely, even if real life is never neatly wrapped up in a catchy chorus like on Broadway. The underpinning message about whether an anorexic is simply 'cured' with a moment of revelation is well worth saying.
Her disregard for the fourth wall is disarming, with the playful way she interacts with the audience cutting through the often theatrical presentation of her story. While elements of the show sometimes feel a bit stage-schooly, Forristal – who often performs as a drag king – has the personality and charisma to seduce an audience.
She takes us through her stay at the Maudsley mental health unit and an exercise in which she and five other sufferers were taken to a sandwich bar, as well as mentioning en passant the fact her condition even led to a heart attack at a frighteningly young age. However, the fact that such serious moments are addressed amid a scattergun, surreal flippancy, firing off in all directions with mixed results, lessens both the drama and the humour.
Forristal is clearly a talented performer, and Oddball an ambitious attempt to take on a personal and important topic. Yet while the first half successfully combines this with comedy, the focus gets lost just when it should be sharpened when the full impact of her disorders become apparent.
Review date: 17 Feb 2020
Reviewed by: Steve Bennett
Reviewed at: Vault Festival
Recent Reviews
What do you think?