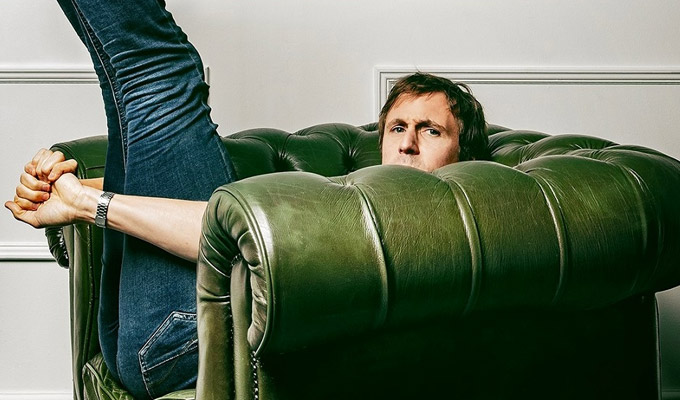 Tom Basden: Sorry Thank You Please
Not only is this Tom Basden's first stand-up show in a decade, but it's also only his third overall, following his Edinburgh Comedy Award-winning debut in 2007 and a follow-up two years later. He's often seemed more comfortable as part of a team, whether the Cowards sketch group or writing for others, such as ITV2's Plebs or his plane-crash comedy play Holes.
Even now his presence on stage is low-key and, initially at least, slightly awkward – blinking into the spotlight with guitar strung over his back and a look of slightly vexed confusion in his narrowed eyes. But he's certain in his uncertainty, if that makes any sense, aware of his own contradictions and understatedly confident in the expression of those shortcomings.
In his decade away, he hasn't just been tapping at his computer and starring in Ricky Gervais's After Life, he's also had a son, prompting the comic – like so many before him – to reappraise his life, his morals and his responsibilities. And yes, he comes up short – though what he'll do about it remains shrouded in ambiguity.
This emerges through a series of storytelling vignettes, rich in detail that verges on the whimsy, that combine with a dry sarcasm and a frank analysis of both himself and the wider world.
With his tongue in his cheek, Basden seeks the victimhood that many people use to define themselves. He may be a Cambridge-educated, straight, white, able-bodied, comfortably-off man… but he suffers the curse of being left-handed, that ever-persecuted minority.
Through his tales – from his son's brutal first brushes with nature to his own encounters with the homeless – the picture emerges of an ineffectual, morally timid middle-class late-thirtysomething still not quite sure of his place in the universe. Even when he does find certainty in some opinion, such as the evils of social media, his anger is ludicrously ineffectual.
That topic is beautifully highlighted with a cutting parody of Mark Zuckerberg's lack of empathy. While of less global importance, but even greater comic effect, he examines where his visceral hatred of Madame Tussaud's comes from, and finds some highly amusing justifications.
Some dependable stand-up favourites are here, from the ignominy of giving a sperm sample – the clinical environs in hospital at odds with the grubby deed that's, erm, in hand – to those more innocent times of finding pornography in hedges.
But even old topics are executed with deft wordsmithery and quiet charm, while the whole hour is rich with pithy observations whose gentility hides an astute social worldview. Or sometimes the asides are just silly and surreal, such as the image of Kim Kardashian trapped in a canoe
The compelling tales are interspersed with wry songs with Basden earnestly delivering twists with credibility and a dry irony.
He doesn't labour the themes across the hour - though that may be because this is early work with the anecdotes hanging loosely together. But the underlining picture is that the comic's continual self-analysis means he can never live in the present.
Though he shouldn't knock that introspection too much, for it has made him a thoughtful and funny comic.
• Tom Basden: Sorry Thank You Please continues at the Soho Theatre at 9.30pm tonight and tomorrow.
Review date: 17 Jan 2020
Reviewed by: Steve Bennett
Recent Reviews
What do you think?