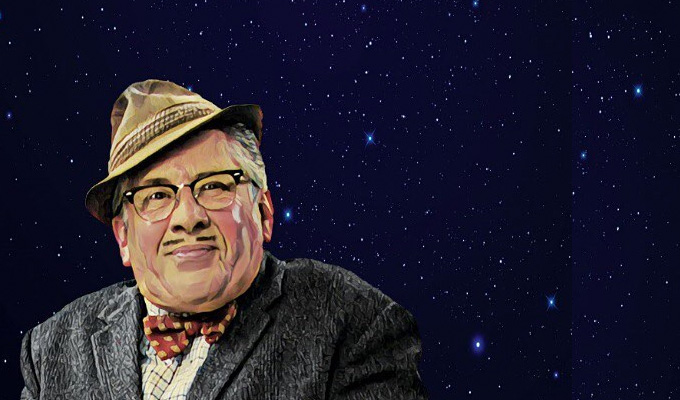 Count Arthur Strong: Is There Anybody Out There?
Science has given us great communicators like Carl Sagan, able to convey the complex, awesome mysteries of the universe with wonder and perfect clarity. Count Arthur Strong is not one of them.
In his new show – one of his funniest yet – the constantly befuddled star of stage and screen addresses the vast subject of 'astromonography' from the 'Big Bump' to space exploration.
Needless to say he does not stick to his planned trajectory. How many talks about cosmology end up with long digressions about bats being hit on the head with pineapples or an attempt to name the films of 'Dustbin' Hoffman?
Each turn of events makes certain sense to him at the time, until he suddenly comes to, hit by a sudden realisation how far off-topic he's strayed. If punchlines are essentially misdirection, Count Arthur has the advantage that even he doesn't appear to know where he was supposed to be heading in the first place.
One malapropism leads into another, and words prompt entirely unrelated memories – 'I'll tell you who had long arms!' he non-sequiturs, leading into a wonderful reverie from the variety hall days. And his playlet depicting the origins of the telescope, as invented by 'Gary Barlow' is hilarious – you'll never hear Galileo's name in quite the same way again.
The Count's professional background is shrouded in ambiguity, as is the premise of this show, which starts as some sort of pitch to replace his nemesis, Brian Cox, on the BBC but freely drifts into a talk to schoolchildren, complete with a conversation with the first monkey in space that turns a bit Rod Hull in one of his now-ubiquitous ventriloquism routines.
Not that it matters. Like so much in the Arthur Strong universe (no pun intended), the silliness doesn't hold up to much scrutiny, but the random outbursts are viscerally funny, more than the mix-ups and misunderstandings have any right to be.
It's a verbal slapstick, and like the physical sort is enhanced by the character. Someone falling over is funny; a pompous ass falling over and blaming the ground for hitting him even more so.
That Count Arthur is a proud and stubborn know-it-all adds force to the many gags Steve Delaney packs into these two hours. His enduring alter ego is so certain in himself that he ploughs on with his mistakes pigheadedly, and is quick to pick fights others when his train of thought inevitably derails, whether it's his unseen stage hand, us in the audience, or just some random unseen force that stops him from being responsible for his actions.
Asides give brief glimpses into how this curmudgeonliness leaches into his offstage life, irritating everyone he comes into contact with. And then there's his pretentious affectations, such as pronouncing 'actual' as 'arctual' in the hope of adding gravitas to his idiocy.
All this, and the inherent surreal unpredictability of proceedings, will have you laughing like a drain at some of the set pieces. The count's dubious musical talents that top and tail the show are a delight, the elusive words and rhythm even more hilarious when under pressure to keep . And his dance moves! The Quo hands-on-hips twist to Bowie's Starman is something else…
Count Arthur's BBC One show might be dead – unless he can land that stint on The Sky At Night – but the good count was always best live, and this proves it. Even if it definitely isn't rocket science…
• Count Arthur Strong: Is There Anybody Out There? is on tour until March. Dates.
Review date: 4 Nov 2019
Reviewed by: Steve Bennett
Reviewed at: Leicester Square Theatre
Recent Reviews
What do you think?