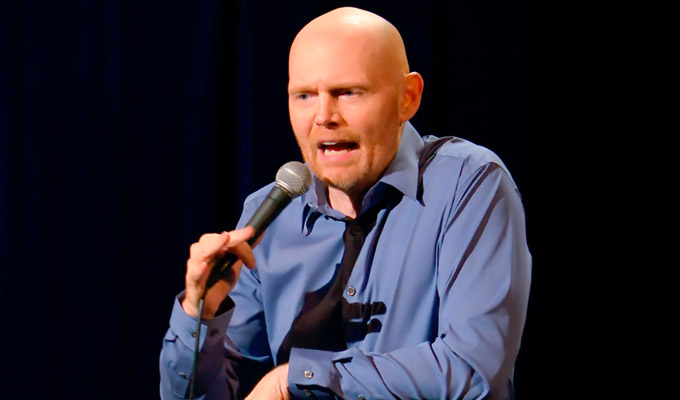 Bill Burr: Paper Tiger
At one point in his new special Bill Burr asks: 'You know what's funny about sexual assault?
It's a deliberately provocative opener to a routine as he again confronts a tide of liberal sensibilities. He argues the #MeToo movement has gone too far and that feminists are 'talking shit' – while any male who declares support for the cause is a pathetic soul just trying to get laid.
Burr also defends his Breaking Bad co-star Bryan Cranston over criticism that an able-bodied actor shouldn't play a disabled character and suggests Hollywood's so woke they'll remake Top Gun with a transgender co-pilot whose 'discarded dick' will get in the way. And don't get him started on cultural appropriation.
Wrap this up in his usual furious persona, and nods to the notion that you can't say anything any more and complaints about comedians being misinterpreted, and you are on the familiar ground of a middle-aged dude grumbling about changing times. It's the sort-of stand-up that would be a clarion call at the straight pride march, and among incels everywhere.
And yet…
Scratch the headline-grabbing surface and there's more to it than this. Sure, Burr revels in playing the enfant terrible and the friction and attention that brings, with a glint of mischief ever in his eye.
But while he's raging about changing times and getting left behind, the subtext is that he's well aware that he's on the wrong side of the future, and is lashing out as old social certainties crumble.
Certainly much of his attacks on feminism are self-serving, but he also attacks the movement at its weak point, acknowledging that so much is driven by white women unwilling to confront their own privilege. Who would have thought the grumpy, reactionary, unreconstructed 51-year-old white guy would be referencing intersectionality, however obliquely, within what sounds like typical bar-room bluster?
Once he gets beyond the wilfully incendiary anti-PC stance, later material also shows him to be as much a victim of toxic masculinity as almost anyone. There's recognition that the fury within him has been passed down from his father and that he can't relax in the bath like his wife does, lest suicidal thoughts creep in. Primarily, he admits that his default response to emotional turmoil, such as having to give away his dog, is to bottle his negatives feelings up – only to have them explode at someone he loves later.
That's his angry persona explained in one. He is the titular Paper Tiger – apparently aggressive and intimidating, but in fact too ineffectual to be a threat.
Burr also gives off the sense that some concerns of the perpetually woke are small fry compared to the more existential threats to humanity – which he sees as coming not from climate catastrophe but from increasingly sophisticated sex robots turning us against reproduction. This he demonstrates with a gloriously graphic act-out of buying an old-school inflatable sex doll and blowing it up.
For whatever the surprisingly complex sociology behind Burr's easily-enraged asshole act, he (almost) always has the way to make it funny, as you might expect from such an internationally acclaimed comic.
The best moments show an awareness of what an idiot he is as he replays real arguments with his wife. And often the laughs come despite your better self, thanks to the bluntness of his approach. But that tug-of-war between base instincts and good intentions is precisely what's at the heart of Paper Tiger.
He jokes that London's Royal Albert Hall, where this special was recorded, is far too prestigious a setting for his 'dick and shit jokes'. But conversely, those gags are also a low-rent cover for much more thoughtful notions.
So while some punchlines will trigger the right-on, as a whole this is an ambiguous special as Burr grapples with how men like him find a place in a new world, fearing change but acknowledging it might actually do him some good in the end.
• Bill Burr: Paper Tiger is streaming now on Netflix.
Review date: 11 Sep 2019
Reviewed by: Steve Bennett
Recent Reviews
What do you think?