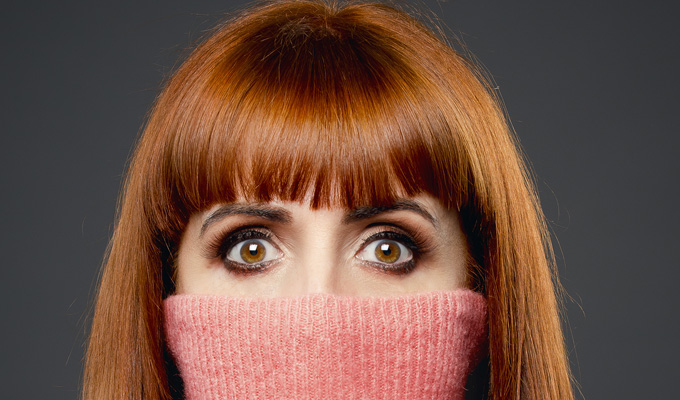 Cally Beaton: Invisible
Invisible is a stunning piece of storytelling, frustratingly wedded to a big chunk of lazily mediocre comedy.
The title ostensibly refers to Cally Beaton's all-too-familiar feeling of being overlooked as a 50-year-old woman, just fading into the wallpaper of society. But it turns out to have so many more resonances than that as she tells as of a remarkably ill-fated trip to Iceland.
She introduces herself as a perimenopausal independent-minded single mother of two through a series of ginger jokes and boringly formulaic '…and that was just the xxxx' lines. When she mentions Iceland, you know there will be a joke about the shop, and when she mentions a cat, you know there will be a joke about her pussy - and she doesn't disappoint. Or rather she does disappoint, that's the pity.
Yet the core of her experiences, from being the only girl at an all-boys school to the trials of dating, especially of being dumped by an Abba fanatic in a way she grudgingly accepts was so much better than being ghosted, are solidly entertaining. And, crucially, they are based on a clear understanding of her place in the world and where she would ideally want to be.
But when Beaton gets into the meat of her tale, Invisible turns into a completely different show. Not especially funny – and still prone to the occasional hoary 'suck on a Fisherman's Friend' level joke – but absolutely gripping, full of crisis, risk and a triumphant conclusion as she finds deep reserves of female resolve to conquer the toughest of emotional and physical circumstances. And it's told with eloquence, poise and mesmerising sense of drama.
The pivotal point – and it's only a small spoiler to reveal it – comes when her boyfriend dumps her out of the blue at the very start of a trip to Iceland, jumping on virtually the next plane back. Determined to plough on with the holiday regardless, Beaton picks up the rental car and sets out to explore the land of fire and ice – but mainly ice – on her own.
Finding herself alone in a cold, bleak and inhospitable landscape is an unmentioned metaphor for how she sometimes feels in the world; and her conquering of such a hostile environment is an inspiring credit to her grit.
It's an absolutely riveting tale, testament to what she's capable of as both a woman and as a comedian. If only she could rinse the show of those dreadful jokes, this would be an incredible show, gripping, perceptive and uplifting.
Review date: 25 Aug 2019
Reviewed by: Steve Bennett
Reviewed at: Assembly George Square
Recent Reviews
What do you think?