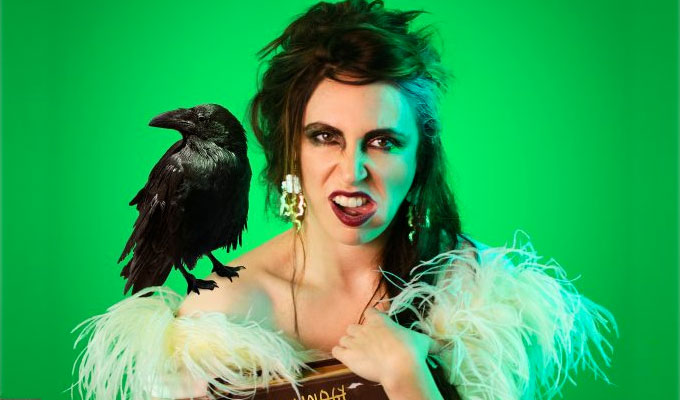 Holly Morgan: Is a Witch. Get Her!
It's hardly any revelation that the idea of witches was codified misogyny; a way for men to both ostracise free-thinking women who wouldn't conform to patriarchal ideals - and slaughter them in their tens of thousands.
But other than repeating the obvious, Holly Morgan doesn't drill especially deep, putting a fairly rudimentary spin on the many historical examples she gives.
While raising the brutal horrors, she also declares that witches were the 'divas' of their day. We can probably forgive her for that stretched analogy since it gives her the chance to show off her cracking voice, channelling Bette Midler, Amy Whitehouse, Cyndi Lauper and many more.
Her husband Tom Moores is recruited as her familiar, complete with lycra catsuit and ears to match, and together they parody A Star Is Born. As well as being the put-upon sidekick, he's a good singer in his own right and gets to release his inner Sinatra with a rendition of – what else? – Witchcraft.
The cabaret element is fabulous, but the marrying it to a strained narrative about witches is hamfisted, relying on feminism at its most superficial. Drowning women = bad. Got it.
Morgan also labours the point that patriarchal societies frequently use books of 'made-up jibberish' to subjugate women from The Bible to Malleus Maleficarum, the treatise used to justify torture and death to rid the nation of sorcery.
The superstitions might seem laughable to modern ears, but Morgan notes that the last woman to be convicted of witchcraft in the UK was Heather Duncan in 1944. (There are quite a few genuinely interesting factoids scattered through the show, it's true)
She also raises the murder of Victoria Climbie in 2000, reputedly because her aunt was convinced the eight-year-old was possessed by the devil. It's hard to get back to comedy after that, and the segue is awkward, to say the least.
That reveals the fundamental problem at the heart of the show; it's hard to marry fluffy cabaret with the brutal truth of persecution that Morgan keeps raising.
For example, she has a pop the Massachusetts town of Salem for sanitising its infamous witch trials for cutesy tourism. But the high-ground criticism a little hard to take from a woman who has used the same horrors to sing in a Liza Minnelli voice.
Most of the comedy comes from pointing out how awful the past was, which is a pretty straightforward route, along with the occasional cheap pun, such as the obvious wordplay on 'papal bull'.

Her hour also encompasses some fictional witches –although Clive Anderson offers a better historical mansplanation of Shakespeare's Weird Sisters in his Macbeth show.
Finally, Morgan attempts to tie the idiomatic use of the phrase 'witch hunt' to her message. Its modern use has very little to do with gender, but its repetition by Misogynist-In-Chief Donald Trump is enough to launch some sideswipes in the direction of the White House.
No worries, though, Morgan does have a plan to defeat the petulant bully. 'We're going to win with kindness,' she says.
Like so much of the show, that doesn't seem like nearly enough.
Review date: 24 Aug 2019
Reviewed by: Steve Bennett
Reviewed at: Gilded Balloon Teviot
Recent Reviews
What do you think?