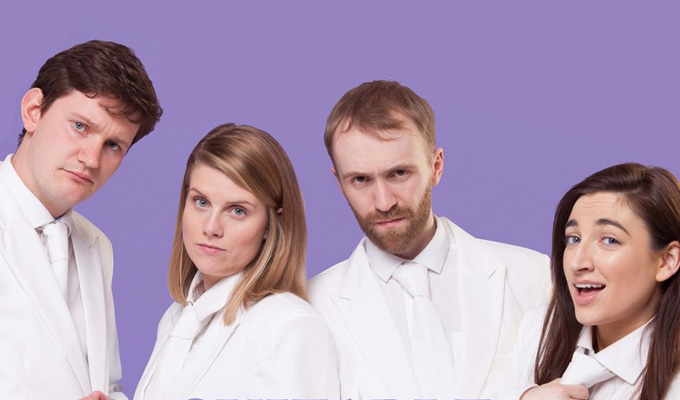 Just These Please: Suitable
Note: This review is from 2019
With slick presentation and a formidable gag rate, Just These Please are out to slay the demon that always stalks sketch comedy: the notion that it's 'a bit hit and miss'.
For Suitable is a remarkably tight and consistent second show from this talented quartet. While no sketch knocks it out of the park, none is less than 'pretty good', either, keeping the laughs coming from an audience who always feel they are in four safe pairs of hands.
Their first sketch is typical – a variant on the Numbskulls idea of the brain overseeing the operation of the human body. So not a wholly original notion, but executed with expert panache. Each organ is depicted with perfect physicality to match their function, while the script is packed with puns.
An awards ceremony for bread and the relationship trauma of a couple of grapes are both similarly rich with wordplay, They are gags you could surely figure out, but presented with such convincing build-ups that each sketch feels like a satisfying whole.
Their skit about ordering coffee when you have an Irish name has had some viral success, with 1.7million views on Facebook, and is replicated here. Again, they take a familiar idea but execute it with a flair in the writing and performance that screams class. The same can be said for a scene about those who say 'pacifically' instead of 'specifically', which acknowledges this is a common bugbear for pedants, while still having fun with it.
A formality to their presentation adds to that feeling. They all wear suits and give each other a small nod at the end of each scene, as if they have just danced to a medieval madrigal together, then leave the stage in a slow, choreographed way.
Just as the sketches are consistent, they're a well-balanced, talented team with no dazzling performer outshining the others. Georgie Jones, William Sebag-Montefiore, Philippa Carson and Tom Dickson all perform at with same energy – so much so that they could probably switch roles and it still work.
Songs are in the mix, too, including a 30th birthday rap and an Edinburgh-centric showstopper that will have you singing along. They're almost family-friendly and commercially they might be advised to lose the one or two naughtier scenes that nudge them into the 14+ territory to broaden their appeal, especially given that they are a mainstream prospect, and performing in a 12:15 lunchtime slot.
They remind me a little of Foil, Arms and Hog – the similarly well-polished Irish trio I saw in this same intimate Gilded Balloon balcony room a few years ago and who are now playing the biggest venue at the Fringe. Expect similar success for Just These Please.
Review date: 21 Aug 2019
Reviewed by: Steve Bennett
Reviewed at: Gilded Balloon Teviot