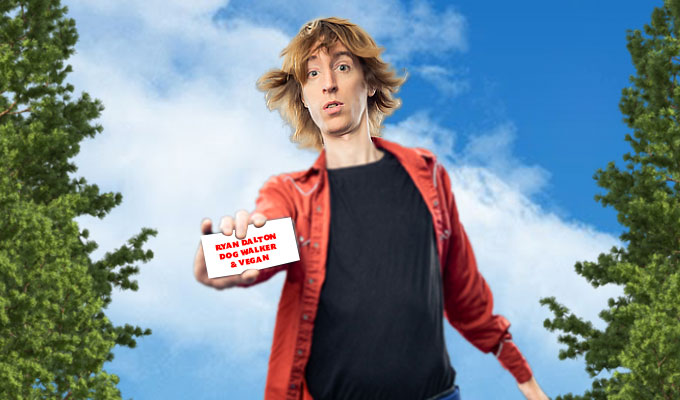 Ryan Dalton: When Nature Calls
Ryan Dalton offers a lively debut show, bristling with energy and confidence. He's got a story to tell of growing up in the wilds of Berkshire with a love of animals and landing his dream job as a zookeeper with the big cats. Would that everyone got that result in life.

The blurb about exploring his love of animals is quite a hook, and an unusual one at that, so it's a shame that so much time is spent on a lengthy act-outs of feeling sick, being sick out of a car, on an animal and, rather improbably, on a hotel receptionist.
It reminded me of being at school, when the mime of barfing was the reaction shot to practically any question or request that was not to one's liking. Bit off-putting. By one point there was more vomit story than animal. Tell us about the animals, Ryan!
He gets there in the end, with a couple of choice tales the like of which you won't find on David Attenborough. The animal anecdotes were good, just not enough of them.

Dalton also painted a vivid picture of his Cockney dad and the rough diamonds that make up his vast extended family. Similarly well-depicted were a zoo colleague and a particularly obnoxious dog walker, but you could see where that joke was going a mile off.
There's a slight change of tone and pace as he dealt with him being vegan, proving a passionate and articulate advocate for the cause. He has such a rich subject to mine here, but saving the world is difficult to make funny. Dalton should have offered more of this and less of the pissed teenager stuff, which wasted time – and the show had to gallop towards a 'we can all do more' conclusion.
He has audience skills, marshalling the chatters to order firmly but with grace, and the hour scooted by. But he could have edited his choice of stories better. It costs a fortune to do a show in Edinburgh, as he pointed out, and when you make your debut, you have to make it land.
Review date: 20 Aug 2019
Reviewed by: Julia Chamberlain
Reviewed at: Gilded Balloon Teviot
Recent Reviews
What do you think?