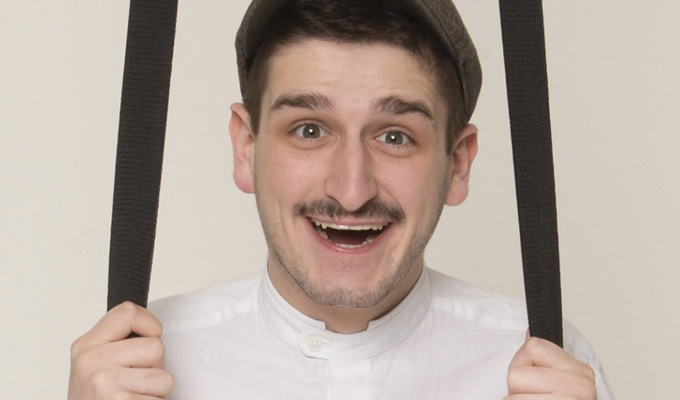 Jack Gleadow: Mr Saturday Night
There can't be many Edinburgh Fringe shows that use Cannon & Ball's theme tune Together We'll Be OK to warm the audience up. Even fewer that use it unironically.
But Jack Gleadow makes no bones about his desire to be an old-school all-round variety entertainer following in the footsteps of Bruce Forsyth, Joe Pasquale, and Ant and/or Dec.
He brings their 1,000-watt enthusiasm to the stage, and his infectiously cheery demeanour has the audience on side despite his often cheesy material.
An impersonation of Tom Jones (first hit: 1965) starts the show, and he's got jokes such as thinking that the band ELO (first hit: 1970) was someone saying: 'Ello' in his Hull accent. Not that old musicians such of these is what a 25-year-old like Gleadow is realy into, of course. His favourites are 1973 New Faces winners Shawaddywaddy.
But while he has a warm and winning personality, Gleadow's debut is a mess. He was aiming for variety, but has ended with an inconsistent mish-mash of styles and quality. Trying to show he can do everything ended up proving nothing.
One problem is that with the best will in the world, a third-filled black box in the Pleasance is not Sunday Night At The London Palladium and his attempts at big entertainment, though not completely dampened by the circumstances, don't have the power of the crowd behind him.
The audience participation is jolly, but his variety segments can't hope to match the invention of TapeFace or Nina Conti or Spencer Jones, who are all reinventing the old genres.
Another issue is that he's trying to combine the shiny-floor stuff with a Fringe-style origin story, describing his love of light ents and how he was a schoolboy magician rising through the ranks of competitions across the north of England, and how he once worked in Primark.
There are no great revelations in the story. Besides, would you ever catch any of his heroes like Tarby or Brucie sharing their backstory? It's all about the punters, not themselves.
In flat cap and braces, this stalwart of new cat finals has a few strong jokes and observations among the cornier ones, such as his wry-but-silly take on B*Witched's C'est La Vie. And his buoyant jauntiness just about keeps this leaky vessel of a show afloat.
He says all his heroes have four things in common: they're a nice person, with jokes, a bit of variety and they work hard. Gleadow's got all these things, but he might need do a bit more of No. 4. It'll surely take a lot more than a rickety Edinburgh debut to quell his ambitions, given that showbiz is in his blood. He just needs to channel all that he has going for him into a more coherent, consistent package.
Review date: 17 Aug 2019
Reviewed by: Steve Bennett
Reviewed at: Pleasance Courtyard
Recent Reviews
What do you think?