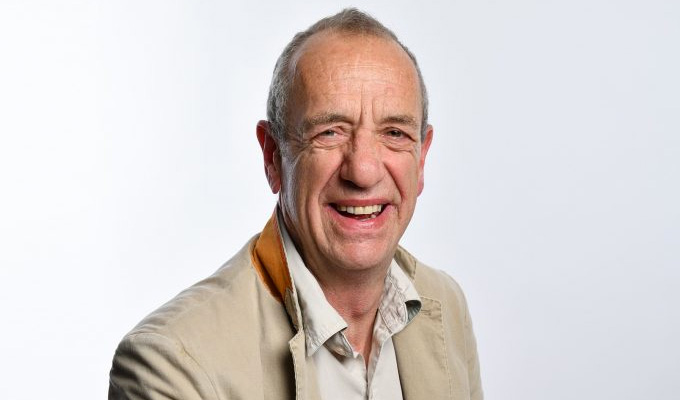 Arthur Smith: Syd [2019]
Well, this is rather delightful: Arthur Smith's tender portrait of his father brought to affectionate life through simple but elegant production and evocative music.
The comedian describes Syd as 'an ordinary man who lived through extraordinary times'. But while there will be no statues going up in South London to this Army conscript turned beat bobby, he is shown as a decent, brave, honest, witty, kind and compassionate man. If that is ordinary, let's have more of it.
Raw material for the show comes from the memoirs Syd wrote in 2004, just for his family. The book is rich with stories of his time on the beat in Kennington, where he mainly had to deal with drunks, good-naturedly. Before that, he fought at El Alamein and he describes how lucky he was to survive the slaughter. But he was captured and became a prisoner of war, first in a Labour camp, then in the notorious Colditz – which was actually better.
Syd's career, and his romantic life are told with clear sentiment. But Smith keeps the right side of schmaltzy thanks to his sense of humour, which is very similar to his dad's, including a penchant for old gags.
We get our fair share here, but more useful is the humour that naturally emerges from tough times, sometimes supplied by Arthur, sometimes direct from Syd. The comedian took his dad back to Colditz late in life, and stayed in the hotel the castle has now become. Syd called room service and asked for a shovel.
What most elevates the show, though, is the music. The production is a double-act in all but name, with Kirsty Newton on the keys, harmonies and sometimes standing in for a supporting character in Syd's story. She gets her moment in the spotlight, too, with a beautifully poignant rendition of The Pretenders' I Go To Sleep.
The music design of the whole show is phenomenal. Smith has drawn on his beloved Leonard Cohen before, and again harnesses the same deep, dark voice, marinated in a lifetime's hardship, to offer a meaningful soundtrack to an inspirational life. His version of Peter Gabriel's The Book Of Love is truly tender – which may be something of a surprise if you know Smith only though his cheerfully grumpy comedy persona.
There's further poignancy, too, when the comedian contrasts his father's wartime experiences with what he was doing at the same age: living the carefree life of a flaneur in Paris during one of the city's artistic and political peaks.
Syd, the show, is not all elegiac, though. It's a celebration, so celebrate we shall – with an old-school knees-up singalong here and there.
With a rich and varied tone, this is amusing, engrossing and inspirational in equal measure. What is cynically dismissed as the 'dead dad' show has become a much-maligned staple of the Fringe. But THIS is how you do it right.
Review date: 16 Aug 2019
Reviewed by: Steve Bennett
Reviewed at: Pleasance Courtyard
Recent Reviews
What do you think?