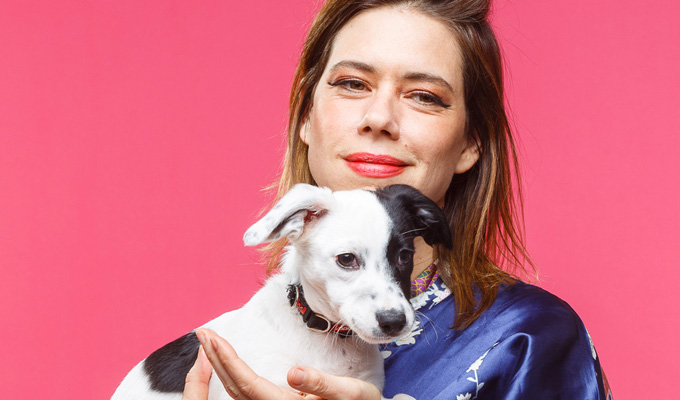 Lou Sanders: Say Hello to Your New Step-Mummy
Note: This review is from 2019
The rise of Lou Sanders over the past year or so has been a real good news story in comedy, thanks to her best show yet last year, Shame Pig, and her Taskmaster appearance (and triumph).
While her shows used to be somewhat chaotic and incoherent, they are now wise and funny - yet with still that hint of disorderly energy still, just to keep you on your toes.
Her new one, Say Hello To Your New Step-Mummy, should cement her as a comic who is unique and to be treasured. It is a deep dive into her family relationships, her sex life past and present, and her 'healer', a woman called Jill whom delivers wisdom to Lou's life from the other end of a WhatsApp call.
One of the most striking things about the show is that Sanders, by her own admission, is showing us her most' dislikable self'. That's pretty much the opposite of what most comics do. Relatability and likability are supposed to be non-negotiables, and here she is, just having broken through to the mainstream, fessing up to cheating on previous boyfriends and generally being, in her words, a 'sex pest'. For this, she has been put on 'a man ban to reset her patterns'.
Weighty points are made along the way, though, about how women are valued, and the limits of the term 'feminism' when 'equality' might be better. Sanders makes the point that women are judged more for sleeping around than men are (men such as her brother), and yet she seems to still include her promiscuity in her dossier of things that make her 'dislikable', which just shows how hard-wired these things can be.
One of the key elements of the show though is Sanders finding a thread on Reddit of people taking potshots at her after watching Taskmaster. The comment that appeared to sting was someone saying they didn't like Sanders because, and I'm paraphrasing here, she always goes on about her labia.
Sanders' response in this show is to double down on this. She's not one to back down in being open about female sexuality and women taking ownership of their bodies. Fishermen's wives, she says, would flash themselves towards the sea in the hope of their husbands surviving a storm. Sanders is with those guys, not the Reddit losers.
Her material on her family is just as explorative and confessional. It's a testament to how confident Sanders is as a performer that she can get a routine out of the dream she had about sleeping with her stepdad (her 'happy now?' that she slips in after telling us this is inexplicably hilarious). She indulges in some silliness too, though, running through the only song that would ever get played in the family car (about hunting dogs), and reciting the bad poem that, aged 11, she read to her grieving family after someone had died.
The show is nowhere near as po-faced as I've made it sound. In fact, Sanders rarely talks about anything serious for more than 20 seconds without doing a ridiculous joke, often a faux-laddish dad joke (her current staple). So Sanders is walking a tonal tight-rope the whole time. But she's in control, and because she's comfortable with it, so is the room.
So, another impressive show from Sanders: courageous, funny and unique.
Review date: 14 Aug 2019
Reviewed by: Paul Fleckney