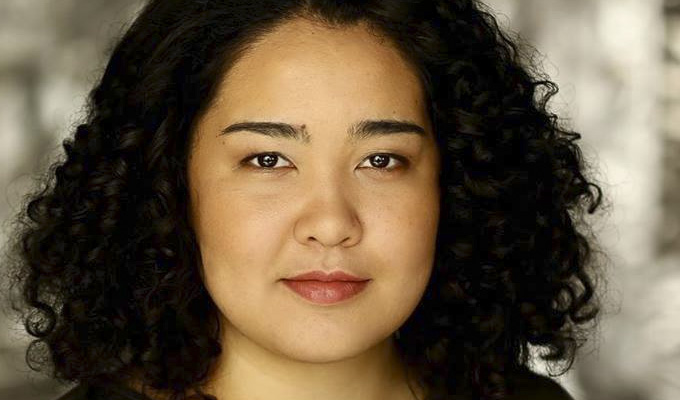 Chortle Student Comedy Award Final 2019
Note: This review is from 2019
If you're under the impression that today's generation of students are all delicate liberal snowflakes, Erika Ehler's bruising set is an eye-opener.
She took this year's Chortle Student Comedy Award title last night with a brutally uncompromising set. Her vicious, even horrific, material, made the audience gasp at her audacity and laugh at the sharply crafted jokes beneath in equal measure.
The shock comedy exposes darker thoughts but does not substitute shock for strong writing, which is a pitfall for many newer acts working in controversial territory. She is a female, Canadian-Filipina Frankie Boyle with a biting wit and a confident deadpan that says 'I'm in control of this'.
The attitude shone in the highly-charged atmosphere of the final, with a raucous audience just the right side of rowdy, which host Mark Watson channelled well. The crowd were rewarded with eight of the top emerging comics in the UK. More often than not in competitions there are two clear tiers, those in with a shot and those who struggled – but everyone had a good gig here.
Second-placed Tom Short could not have been much further from Ehler in tone and content. He's just a daft idiot mucking about, but the foolish persona belies the craft that's gone into making his set.
He takes to the stage in a spangly jacket, dragging a suitcase, a cheap 'wheel-of-fortune' prop and a whiteboard explaining what each of the numbers correspond to. Give it a spin and the instruction might be for a joke, and anecdote or for him to do something that makes it harder for himself.
Tonight the randomiser gave him the chance to get out some withering material drawing on the shady reputation of his native Salford before getting more ridiculous. 'Awkward silence' came up as a category more than you might think, with his attempts to quell the audience doomed to fail. The urge to laugh is irresistible when you're told you can't.
Short also ad-libbed some physical comedy with a woman in the front row, becoming a running joke in his stupidly entertaining set, which was loose but impressively thought-through. And, most crucially, hilarious.
The night started with Mamoun Elegab, who impressed with his chilled composure and a fascinating back-story that he'll be mining for years. His uncle was a political prisoner in Sudan while Elegab himself has something of a sketchy past.
The comic's encounters with a schoolmate who juts happened to be a Muslim extremist provides fertile ground for comedy that looks at the people behind the headlines. It felt like we only got a tantalising glimpse of this perspective in a seven-minute set, making Elegab a comic who you'd like to hear more from.
Finlay Christie does not benefit from such a unique background, being very self-aware that he's a typical white lad, who just happens to look young.
Yet from such an unprepossessing premise he's crafted an elegant routine, from considering why being a boy is better than being a man – at least linguistically – to mocking himself for his archetypal behaviour. The material is relatively conventional, too, but smartly realised and delivered with a good sense of timing, including the nerve to hold a silence for maximum impact.
Inscrutable Rosa Handscomb projects an intriguing, offbeat, persona that's impossible to get a handle on. She has a saxophone she barely uses, deploys blasts of sound to give her set some energy that ill-fits her more subdued vibe, and talks about very precise topics, such as a bizarrely-compiled booklet about safe spaces from her childhood that she completed even more weirdly. Her quiet eccentricity draws the audience in to material you won't hear anywhere else.
Tim Thompson offers a clearer persona but equally detached from the majority. He's intellectually superior, and knows it, but emotionally distant and racked by anxiety as he ponders the 'crushing futility of human endeavour' in his deadpan way. That makes him not as easy to warm to as some acts, but there is some strong writing here, even if the odd jokes is a bit too niche for a wider audience, such as a reference to SSRI without quite explaining it's a type of antidepressant. But the jaded self-analysis works.
After Ehler and Short came Dan Allum-Gruselle, ostensibly fishing the same waters as Christie with jokes about looking young and witty deconstructions of English phrases. His writing is pin-sharp, and there are at least three common expressions you won't hear in quite the same way again, having witnessed his forensic take on them, so memorable is his analysis. Fresh-faced and earnest, he is utterly at ease with his material and his persona and exudes an understated confidence.
Closing the show, Emman Idama is a more effervescent source of energy, just the thing to keep the spirits up. He opens with a couple of pat icebreakers about his Nigerian background and of being the only black kid in the small Irish town his family moved to.
Mum is a die-hard Christian and Dad is a Muslim, which leads to a very entertaining tug-of-war with them vying to recruit young Emman to their cause. His act-out is lively, and with a slight twist as the two separate conversations suddenly become aware of each other.
Wrapping up the set with another anecdote about navigating the racial minefield in the cinema where he used to work, Idama establishes himself as a warm, charming and thoroughly engaging performer.
Review date: 13 Aug 2019
Reviewed by: Steve Bennett
Reviewed at: Pleasance Courtyard