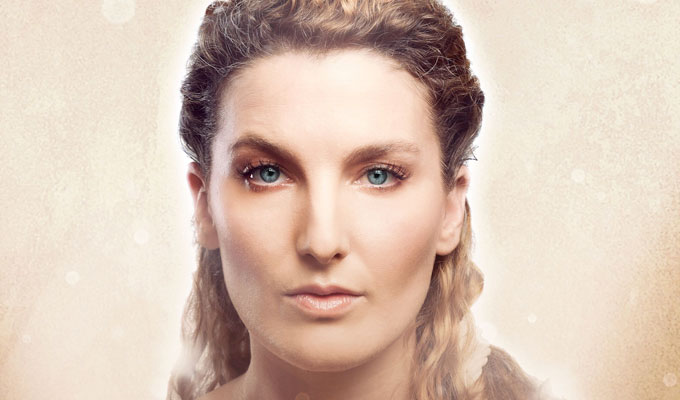 Alice Fraser: Mythos
Since it uses the tricks of rhetoric, agenda-led stand-up thrives when it's based on unambiguous opinion from a performer with a clearly-defined persona and viewpoint.
But Alice Fraser knows the world isn't as clean and straightforward as comedic bombast would have you think; indeed she mistrusts anyone whose beliefs are set in concrete. So instead of polemic, she tries to negotiate a more nuanced view of society, drawing on her family background for historical context. Fraser is an iconoclast but replacing firmly-held beliefs with something fuzzier.
This reaches its peak with a funny, irreverent and lyrically nimble song she plays on her banjo that navigates safe passage through the post-#MeToo sexual landscape. It recognises that men can both respect women and objectify them, as long as they're not a dick about it. I'm paraphrasing.
Mythos – a Greek title that should filter only the intellectually curious into her audience – is dense with ideas of the sort that will set minds buzzing days after the gig. But if you've seen her before, you'll have come to expect that.
She likes upsetting people's beliefs… almost. Every provocative statement comes with a disclaimer, which might knock a little edge off the punchline but establishes her as eminently reasonable. After all, this is the woman who asked at the top of the gig if anyone had topics they didn't want to hear covered, so she could issue personalised trigger warnings en route.
In this age of identity politics, she considers what it means to be an Australian woman of Jewish background, especially given the journey her forebears took fleeing Europe to end up where she did. This gives a humanity to her philosophising, just as her discussion of the masculine hero narrative is made more palatable with an appetiser of Batman jokes.
Because for all the high intentions of Mythos, it is frequently funny as she describes her interaction with the ideas. Oddest of which was a row over the internet with a Flat Earther who didn't believe Australia existed, insisting all footage of the country 'is as fake as the footage of the moon landings'. To be fair, both do contain exactly the same amount of fakery.
Add in a compelling delivery, fast enough to pack in the content yet with a varied pace, and a mischievous twinkle so as not to make the show feel like a lecture, and you have an informative, amusing, thought-provoking hour from a comic who always sets her ambition high.
Review date: 10 Aug 2019
Reviewed by: Steve Bennett
Reviewed at: Gilded Balloon Teviot
Recent Reviews
What do you think?