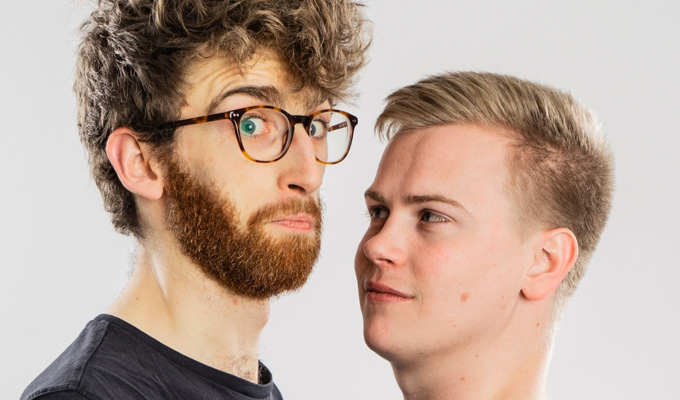 Mark and Haydn: Llaugh
Clearly smart operators, former Cambridge Footlighters Haydn Jenkins and Mark Bittlestone's trademark is to constantly recast their sketches with different emphasis, settings or points of view.
Such deconstruction is sometimes excellent, but definitely overused, being deployed even when the reboot has nothing to add to the original premise. At such points it feels like a gimmicky excuse to use earlier versions of a script that otherwise wouldn't have cut the mustard.
They also lean a little too heavily on the pull-back-and-reveal payoff, when all about a scene that might have initially have seemed to come from the standard sketch comedy playbook is not what the audience have assumed. Again, in moderation, this works well but over 45 minutes seems repetitive.
The upshot is that Llaugh feels stretched, which is disappointing given that they have some original ideas, performed with vigour, even in a metal sweatbox of a venue.
Between them thy have a variant on he jock and the nerd dynamic, but even the becardiganned Jenkins matches the in-your-face physically of his comedy pal's remit when the scene demands it, whether it be a take on squeezing past a stranger on a train or high-energy remix of the Skype sounds.
They are engaging presences, if slightly pleased with their good ideas. That's is no bad thing – look at similarly high-aiming The Pin – but the invention has to pay off for this to work, which isn't always the case. Mark & Haydn also include some surprisingly cheap gags among their more highfalutin concepts.
They are a talented duo with a eye for looking beyond traditional set-ups and can claim a distinctive stage personality. But they don't yet feel like a finished product able to sustain a full-length show without quite a lot of filler.
Review date: 2 Jun 2019
Reviewed by: Steve Bennett
Reviewed at: Brighton The Warren
Recent Reviews
What do you think?