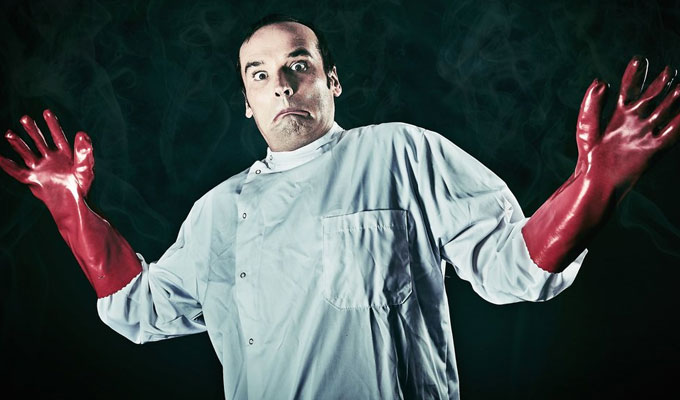 Frankenstein In The Bin
The 4.40pm time slot at the Brighton is doing Fred Strangebone no favours, as it attracts plenty of young children to his twisted, clowning version of Frankenstein.
Not that there's particularly anything adult about the show, but having a mum audibly explain what's going on to soothe her son's fears that it's going to be too scary is off-putting for the rest of us, as are the over-enthusiastic contributions from those too young to know the plot – or to grasp the concept of one man playing several roles.
Strangebone, or Ben Whitehead in real life, goes with the flow, but clearly the tone of the show and the suspension of disbelief is affected.
We first meet him in dressed in surgical apron and rubber gloves, looking amazingly odd with his mouth open preternaturally wide and his wild, staring eyes scanning the room, part madman driven by obsession, part sweat-drenched prey, cornered and dangerous. His way out? A wan parody of a burlesque dance.
If this is Doctor Frankenstein, an inflated bin bag and a cape convert him into the hunchbacked Igor, a dustcart becoming his carriage as well as the source of all his props – discarded rubbish finding new uses as he both strives to assemble the components of a cadaver to be reanimated, and to put on a show.
'Theatre Binny!' he triumphantly cries in his broken ambiguous East European accent each time he transforms himself, using the things that the everyday folk leave behind whether he becomes a Shakespearean actor or a pop star. Each discovery is conveyed with a childlike delight, and while he doesn't reach the same heights of invention of Spencer Jones, the conceit and tone is broadly similar.
Finally, The Creature is unearthed, and the show rather judders to a halt as Whitehead doesn't then quite know what to do with himself in this role. It could be the strange energy of the room, but he just faffs around, being neither terrifying nor vulnerable: just a bloke dressed up with no place to go, and peculiarly anticlimactic.
But along the way Whitehead has fun with the weirdness, taking us with him with his unhinged weirdness and just enough of a knowing glint in his eye to acknowledge his ridiculousness.
Review date: 31 May 2019
Reviewed by: Steve Bennett
Reviewed at: Brighton The Warren
Recent Reviews
What do you think?