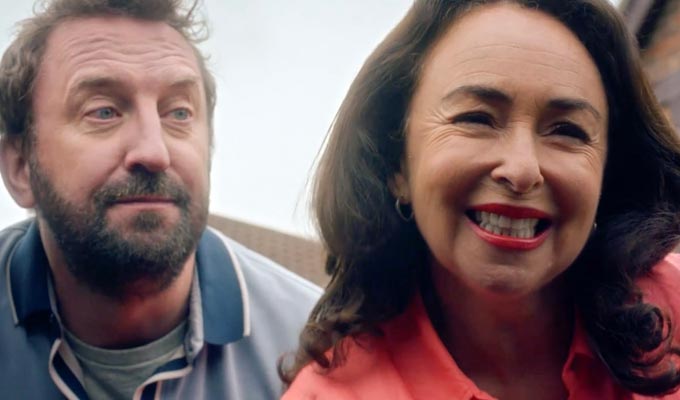 Semi-Detached
The gimmick of Lee Mack's new sitcom pilot Semi-Detached is that all the action unfolds in real time.
It gives the show a real sense of urgency, like a domestic Thick Of It, as chaos is heaped upon chaos. In frenetic desperation, Mack's hapless character Stuart makes terrible decisions that make his situation all the worse.
This brisk 20-minute sampler, the last of the New On Two series of pilots snuck out over the festive period, starts with the sound of screaming as Stuart's over-emotional girlfriend April (Ellie White) goes into labour, and the emotions and the agony only intensify from there.
In the sort of coincidence that's only normal in Sitcomland, Stuart's ex-wife Kate (Samantha Spiro) lives across the road, and is called upon to rush the imminent mother-to-be to hospital. But then her new husband, played with trademark smarm by The Office alumnus Patrick Baladi, comes a cropper too – and patching him up adds a new level of farce.
Throw into the mix Stuart's drug-smoking, promiscuous gay father (Clive Russell, relishing a deliciously outré role), a daughter Madonna (Sarah Hoare) showing signs of teenage rebellion, an errant brother (Neil Fitzmaurice) unexpectedly showing up while on the run from the law and a tipsy if well-meaning neighbour played by Geoff McGivern, and there are plenty of seeds planted for a bounteous harvest of panicky comedy.
Writers David Crow and Oliver Maltman keep their script as tight as the dramatic events demand, and while a couple of lines feel familiar (such as Stuart telling his daughter that his new, younger, girlfriend is 'old enough to be your significantly older sister') the vast majority emerge naturally from characters under pressure.
There may be questions over whether the furious pace can be sustained for the extra 50 per cent running time required for the traditional BBC sitcom half-hour. Or indeed whether such maelstroms of mayhem can be conjured up week after week. But this is a promising germ for that holy grail of comedy commissioners everywhere: a mainstream suburban sitcom that doesn't suck.
Review date: 6 Jan 2019
Reviewed by: Steve Bennett
Recent Reviews
What do you think?