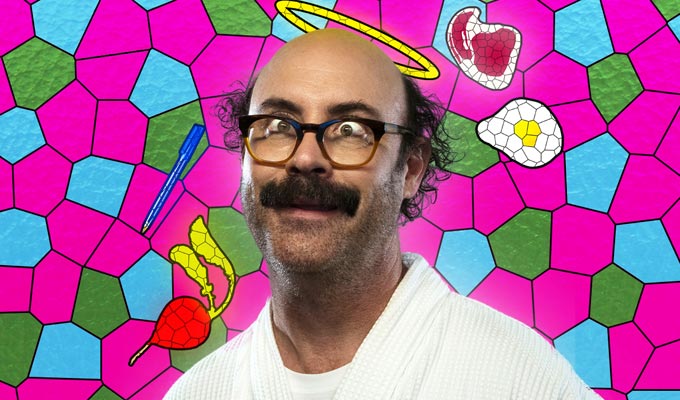 Sam Simmons: Away in a Stranger 
Sometimes Christmas is joy and cheer, and sometimes it's trudging through grim weather and irritating shopping mall crowds. This allegedly festive offering from Australian absurdist Sam Simmons often feels closer to the latter, though he still has his moments.
Some of the uphill struggle can be attributed to his jetlag and illness. Several times he tells us that he's doped up on pseudoephedrine and should probably have cancelled the gig.
The battle is also something of a deliberate ploy to get the crowd on side, placing himself on the back foot in determination to win us over. Although we're the enemy in this war of attrition, his plucky underdog status has a softening effect.
'This is hard,' he says of the gig. 'I'm funny but I'm not likeable. There is no charm.' Thus making a reviewer's job one of simple transcription, just recording his own analysis. But he's tough on himself. He might not go out of his way to explicitly pander to a crowd, but there's still a determined playfulness behind the uncompromising facade.
But this show is already a harder sell than some of his previous offerings, even without the effects of Simmons is feeling flat. Any complex premise is certainly out of the window, instead this is an hour of karaoke, with the comic changing words to pop favourites and inviting us to sing along.
Simmons's inherent weirdness means these aren't quite your usual, lazy, lyric-swap songs, though, as he jemmies absurd thoughts and observations into the familiar melodies, however poor the fit. Careless Whisper becomes about seafood, Nine Inch Nails' Hurt is more swan-based than the original. But we all sing along, reluctantly at first, but he wears us down.
That's pretty much it for an hour. There are a couple of skits for variation, and to loosely justify the Christmas theme. Jorge, the Nativity Llama reminds us of some of the animals missed out of the usual tableau, while he revives the lost Christmas myth of Petey (or Pitti or PD, it's hard to tell with his voice going) Pepperneck in a bit of silliness closer to his usual shtick.
And the true story of the waitress turned Hollywood writer, told in instalments to keep us tuned in, is interesting if largely irrelevant for such a pivotal framing device.
Christmas is a time for indulgence, and Away In A Stranger is full of self-indulgence. Simmons' determination to see it through no matter what is testament to his intransigent spirit… but is it a classic among his work, the start of a new festive tradition? Probably not.
• Sam Simmons: Away in a Stranger runs at Soho Theatre until January 5.
Review date: 14 Dec 2018
Reviewed by: Steve Bennett
Recent Reviews
What do you think?