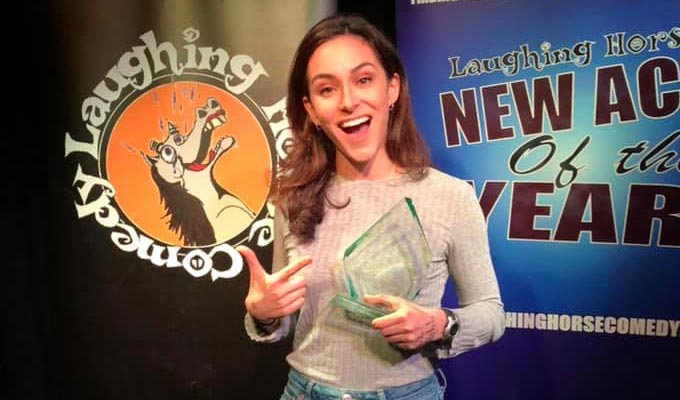 Laughing Horse New Act Of The Year 2018
It's been a few years since the Laughing Horse clubs held their new act competition, which has proved a useful early step for many an aspiring stand-up. And its comeback showcased a diverse range of comedians and comedy styles, proving that the London open mic scene – or at least the upper echelons of it – are in rude health.
Touissaint Douglass got things off to a robust start: a strong, engaging performer with effective material – even if some of it lacked that extra sparkle of creativity to put him into the running for the silverware. Talk of his rough neighbourhood or the travails of dating feel like a familiar landscape, and it takes him a couple of gags until he finds a less well-trodden path through it. Imagining his grandmother arriving in Britain as part of the Windrush generation adds a more personal, and interesting, touch – and he has a likeable personality that'll serve him well.
Eryn Tett has ramped-up weirdness redolent of Emo Phillips, even if she hasn't yet found enough confidence to deliver it strongly while maintaining her awkward persona, which in turn means the energy of the performance is uneven. The slight uncertainty of early gags subsides once she hits her stand-out set-piece parodying slam poetry with attitude and vim, and her writing – weird but with at least one toe still in observational reality – is intriguing.
Deadpan and a little stilted, Ciaran Chillingworth repeated a few odd incidents from his life but struggled to find the storytelling skills to make us care much for them. Shorn of context or relatability and with too few additional gags, it's easy to react to tales of an odd teacher or a guy attacked with his own briefcase with a shrug. There are a few more layers in his tale of a Muller Corner focus group, but even so, the routine ends up nowhere.
Cordelia Graham comes from as artsy a set of parents as her Shakespearean first name suggests, and does a fine job playing up the way their – and her – erudition attempts to be cool in the face of more down-to-earth pop culture. Witness her gag – or, rather, embarrassing home truth – about her geekily academic approach to Sk8er Boi. Though still a little uneven, she shows potential to be an out-of-place posho in the same vein as someone like Miles Jupp.
Akin Omobitan gives his material the hard sell, but it's not enough to cover the lack of ambition in his writing, making for a very familiar set. Much of it is based on racial expectations: he looks like a mugger, black guys can't swim and he can live with the stereotype of having a big dick… a none-too-original gag that Stephen K Amos has been doing for a couple of decades. The rest of the set's about being single, again with no fresh insight or jokes.
Mustafa Fecto says: 'I have just the right amount of confidence.' And he's right, even if it sounds like he's got too much of it simply to make such an assertion. He's certainly an engaging presence whose willingness to chat with the audience even in a competition final adds a welcome fluidity. His writing's more competent than exciting, though: there's a bit too much fat on the bones, and a few ideas – such as the suggestion its better to eat factory-farmed animals simply because they've no quality of life to lose – seem old hat. Still, other judges were more enamoured than I, and he won third place on the rostrum.
Joseph Emsilie has a few decent lines – including the obligatory one about his appearance – but the tone of voice is wearily familiar. The middle-class, carefully uncool, ironic detachment ('drugs are still illegal, guys') with a touch of Widdicombesque forced incredulity added for good measure. It's a very crowded marketplace, even if there seems great demand of that style, not least among TV bookers, but however useful his writing, there's a sense we've seen too many folk like him before.
That's not a charge you could level at Jen Ives, whose very aim in life appears to be to downgrade any social awkwardness around her being trans. Job done. She's easy-going and gregarious with a touch of self-deprecation that adds to her confidence rather than detracts from it. To this Everywoman persona she adds a wry wit and a flick of Stewart Lee-style absurd exaggeration when she discusses the plight of gay penguins, putting extra emphasis on some already witty gags. Great company, she easily deserved her second placing.
Six years resident in the UK, Janine Harouni is an Italian-American from New York, a demographic whose punchy rhythms of speech has become part of the cadence of stand-up. And she fits firmly into that fine tradition, with a brisk, confident, gag-filled set. A brilliant joke about the unintuitive spelling of Irish names was probably what won her tonight's title on its own, while much of the set was rooted in the safe comic ground of relationships and transatlantic differences. But she found consistent laughs from the subjects in tight, well-constructed routines, delivered with a professionalism that belied her two years as a stand-up. The 2018 Laughing Horse title is in a safe, and funny, pair of hands.
Nicholas Everritt used his five minutes to offer a droll, witty and very self-conscious deconstruction of comedy. Adopting a stern robotic voice with all the emotional range of a 'this vehicle is reversing' warning, he ran through different types of the genre – though many ended up being puns – such as bad satire, bad improv, and bad put-downs to bad heckles (which he also provided). There was just a fleeting glimpse of further talents in the character comedy section, too. It's a funny routine, but is so self-contained it raises questions about what he does in longer sets, and so self-referential you wonder how it'd play beyond comedy nerds. But expect to see more of him.
Vibe vacuum Adam Woolard delivers in that unflinching deadpan that many newcomers adopt. And while it protects the comic's real personality, it exposes their jokes – and very few rookies are writing Stephen Wright style one-liners that can withstand the scrutiny. Woolard's set feels like it's been developed on Twitter, with inspired wordplay sitting alongside the more contrived, but with nothing to keep the momentum going, nor to engage with the audience beyond the production line of: here's a joke; here's another joke… A promising writer, but underwhelming performer.
Finally Leo Gallagher, the exact opposite in personality: vivacious and cheery, he has a charisma that livens up the room even at the end of a long line-up. He's got breezy tales of bad dates and terrible parental suggestions on hooking up, but the bulk of his set revolves around the currency of a small West African nation – his obsession being as much the gag as the jokes himself. It's unfortunate he shares the same name as the American watermelon-smashing comic who's a byword for cheap prop comedy, but this Gallagher has the sort of arresting charisma that will go far.
Review date: 4 Dec 2018
Reviewed by: Steve Bennett
Reviewed at: The Bill Murray
Recent Reviews
What do you think?