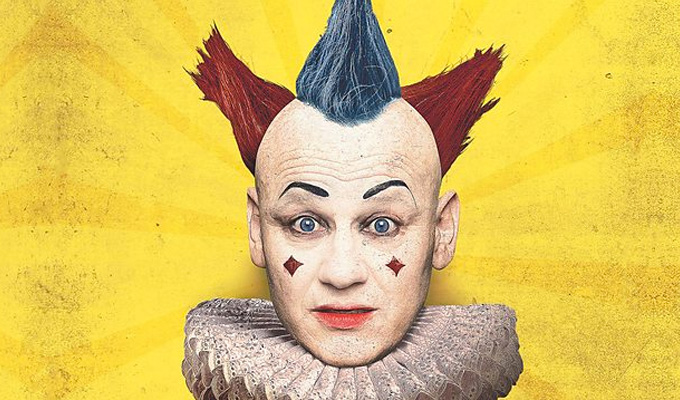 Comedy at Winter Wonderland
Well, it is the Winter Wonderland, so perhaps it's to be expected that the atmosphere is a little frosty.
The Megadome – actual name – within the sprawling Hyde Park funfair and Christmas market extravaganza is a mammoth big top, designed for a full circus and an audience maybe eight to ten times bigger than the comedy draws on this Thursday night.
Three stand-ups inevitably struggle to fill the cavernous space with laughter while external noise, muffled but definitely present, seeps in.
Yet there's a top-notch line-up booked. Headliners over the season, which runs nightly until January 5, include Glenn Wool, Paul Sinha, The Raymond & Mr Timpkins Revue and Luisa Omielan. And the £10 price (£12 on Saturdays) is pretty reasonable for a brisk 50-minute show – especially when compared to the price of the rides outside.
As compere, Tom Lucy has the unenviable task of kicking some life into the marquee, using the standard 'What's your name? What's your job? Who's come the furthest?' lines of questioning. He doesn't hit gold tonight, though he sets up a couple of front-row characters from very little, maintains a cheery demeanour, and tries to get everyone into a festive mood by dropping 'Christmas' in front of almost every noun he finds.
The Christmas first act is Keith Farnan, who at times feels like an extension of the MC with his similar interrogation of the 'crowd', injecting a little conversational spontaneity into his set and playing with the various zones of the audience.
However his set-piece routines, particularly those about his children, tend to be underwritten, with his festive story is a lighthearted 'kids, eh?' anecdote worthy of sharing at the school gates, but only scantily embellished for the stage. His delivery is skilled and he's the sort of chap you instinctively warm to, but much of the set fancy Christmas wrapping around throwaway stocking-fillers.
Terry Alderton worked his arse off to create a spark, his supercharged performance and scattergun set deploying a barrage of songs, voices, jingles, non-sequiturs and in-your-face audience interaction, offering more sound-and-light distraction than the most garish of fairground rides outside. The analogy can be stretch to the whole roller-coaster of a set, full of unpredictable twists and turns (and a rare plateau with one particular number that went on too long).
But strap in to enjoy the ride through a scatty, surreal mind with its fragile grip on reality and Alderton's a unique delight. Even if this big top isn't the ideal environment to enjoy his comedic acrobatics.
Review date: 30 Nov 2018
Reviewed by: Steve Bennett
Reviewed at: Winter Wonderland
Recent Reviews
What do you think?