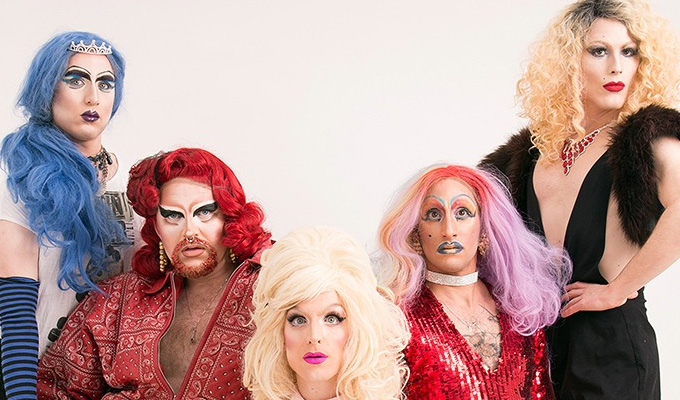 Denim: The Reunion Tour
The sassy cultural icons who embody girl power are back. And so are the Spice Girls.
Because forget Ginger, Sporty and Co, the five femmes fatale of Denim have reunited after their solo careers for one last gig at Madison Square Garden, Carnegie Hall or the O2 Arena or wherever they think they are today.
These gender-fluid divas have all the attitude and glamour you'd expect from drag queens in a late-night cabaret extravaganza in the heart of Soho, with several changes of glam costume as they belt out barnstorming covers.
A girl-band medley, a hit from Beyoncé's back catalogue, Eurovision bangers and a tightly-harmonised Motown mash-up are among the high-energy, high-drama numbers that get the crowd rocking in their seats – and eventually out of them – in The Reunion Tour.
As well as the group numbers, every queen gets her moment in the sun, which is where the show comes into theatrical and comedy territory, fleshing out the Fabulous Five into proper personalities behind the glitter, eyeshadows and wigs.
These individual sections can be a little hit-and-miss. The gag that Shirley DuNaughty (Hugh Wyld), beehive as tall as The Shard, is now a cult leader never really works, and isn't pulled off with much conviction. But Glamrou La Denim (Amrou Al-Kadhi), the alpha of the group, offers a very provocative take on a Muslim upbringing that's virtually flirting with a fatwa – but also comes complete with self-doubt as to whether talking about ethnicity is subverting stereotypes or pandering to what audience want.
As Crystal OBE, Tom Rasmussen has an awesome vocal range and has the most empowering musical number of the night, as well as a duet with mother-of-eight-but-still-kept-her-figure Aphrodite Greene (Charlie Parham) that coughs up cat puns like furballs. Being John Meow-kovich, anybody?
Completing the quintet is Elektra Cute is (Guy Woolf), with a look loosely derived from skaterpunk, and who immodestly purrs: 'Me, an inspiration?' as she insists she's a good Jewish girl, doing a lot of a work for charity, especially mongoose-related ones.
It's an eclectic mix of skits and musical numbers, but the whole is more than the sum of the parts. The music, provided by a live band, is joyously uplifting, whether it's a ballad or disco floor-filler, and the unlaboured, assertive celebration of individuality and diversity is tonic for the spirits. As they climax with a punchy rendition of This Is Me, you'll be dancing in joyous solidarity.
• Denim: The Reunion Tour is back at the Soho Theatre from Wednesday until Saturday December 1.
Review date: 19 Nov 2018
Reviewed by: Steve Bennett
Reviewed at: Soho Theatre
Recent Reviews
What do you think?