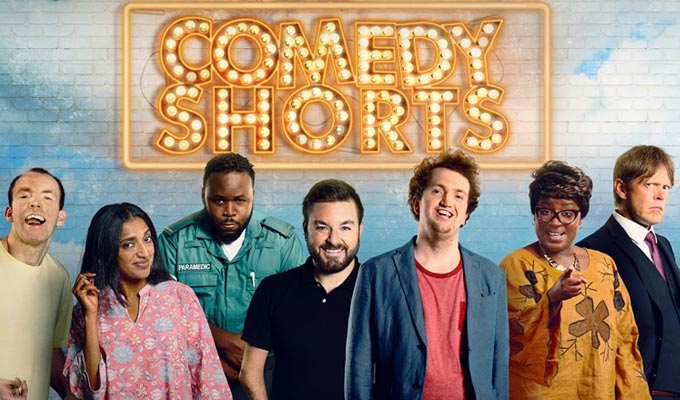 Sky's Comedy Shorts
Sky today releases its latest batch of comedy shorts via its on-demand service, ahead of a broadcast on Sky One at 10pm on October 10. Here's our verdict on the seven new films:
Lost Voice Guy's Comedy Short
We open with a view of the heavens and a computer-generated voice marvelling at the size and majesty of the universe. Not Stephen Hawking, of course, but a reassuringly familiar bit of TV convention to introduce us to Lee Ridley, should anyone have missed him on Britain's Got Talent.
We pan down to see him on a railway platform, as this short follows him over a short rail journey. First the encounter with the well-meaning but utterly inappropriate traveller played with gushing enthusiasm by Nina Wadia, patronisingly fussing over him because 'you shouldn't be out on your own', conflating all manner of physical and mental conditions as one, and assuming every disabled person must know each other. And then there's the set-to with the jobsworth conductor, not believing Ridley to be disabled despite the evidence clearly before him.
Ridley's sarcastic responses are, we assume, the sort of thing he's thought in real life countless times, especially given how such comebacks have long formed the basis for his stand-up set.
It's a humorous way of highlighting the insensitive things people say – usually by accident and exacerbated by social awkwardness – without entirely ignorance-shaming any of them.
Kris Marshall's Comedy Short
An actor as a raging egotist? Where have we seen that before… other than in just about every comic portrayal of the profession, of course. But although Kris Marshall's demanding alter-ego is a familiar archetype, there's a strong sketch idea at the core of his short, which is engagingly executed.
For when he's outraged when someone takes the last chocolate fondant from the catering truck on the set of his hit TV drama Middle England Murders (what could they be referring to?), everyone becomes a suspect. The only way to get to the bottom of it is to halt shooting, and gather cast and crew together for a Poirot-style run-through of everyone's motives and opportunities…
The pay off you can see coming, but there's fun along the way, not least in the toe-curling attempts of Marshall's aloof alter-ego to bond with the ordinary blokes doing the lighting.
Alex Brooker's Comedy Short
Marshall's chocolatey dessert isn't the only thing that's both dark and sweet in this collection; as the same description could apply to Last Leg star Alex Brooker's contribution, subtitled Hands Of God.
Here he's a man who's due to have a pioneering double hand transplant operation to give him 'normal' hands – an adjective that causes him to wince every time he hears it. We meet him in a pub where he talks to a sympathetic barmaid (Kathryn Drysdale) and a barfly (the ever-wonderful Paul Kaye, playing to type as the bonkers outsider) about the pros and cons of the operation: whether the advantages of being able to do a proper fist bump outweighs the disadvantages of never being able to get the last Pringle again.
There are some harsh lines of mordant wit here, as well as some exploration of the idea of whether a disability defines someone… not just in the eyes of others, but in the mind of a disabled person themselves.
But this is played lightly, and there's a heartwarming tenderness to his final encounter with his partner (Esther Smith) that should melt the heart. A delightful and funny emotional journey over a few short minutes, and one of the best of the batch.
Susan Wokoma's Comedy Short
Eighties-set comedies seem to be in vogue, and Susan Wokoma's fine contribution to these shorts has a fantastic period feel, set in a neon-soaked council house full of tacky ornaments.
Within its garish walls, 11-year-old Joanna is kept in check by her no-nonsense Nigerian mother, barking orders and amusingly mangling her English idioms. Mum's sense of drama is far from understated, and when Princess Diana dies, her grief pours out in a tsunami of overwrought emotion… and gives opportunistic young Joanna an idea to get out of Sunday School.
The big, brash characters are offset by some real heart, in the same way the scenes are both over-the-top and carefully observed. Another highlight of the series.
Jonny Pelham's Comedy Short
Late Bloomer is very similar to the sort of self-effacing material with which Pelham launched himself on to the stand-up scene, making quips about his webbed toes, his unconventional number of nipples, and lack of success with women.
This short portrays him as still a virgin at 28, prone to telling tall tales on dates to disguise his nervousness, while his coupled-up friends Harriet Kemsley and Bobby Mair offer their often contradictory advice.
The premise offers up some amusing sketch-like ideas, not least the date with a woman who looks just like him (former So You Think You're Funny runner-up Ruth Hunter) and the prying interference of a smug waiter, played by Miles Jupp. Again a happy ending makes the short feel like more than just jokes, though the gag count is high.
Samson Kayo's Comedy Short
Samson Kayo's short feels born of the social media age, and not just because his character, a London paramedic called Maleek, runs a blog in which he reports from what he describes as the gritty front line of a lawless urban hinterland. But because the short has a bonkers edge, a slightly childish sense of humour, and a larger-than-life central character, all of which often characterise successful YouTube comedy.
Of course for comedy purposes, Maleek has to get paired up with someone of maximum contrast, and here it's the ever-delightful Jane Horrocks as a chirrupy happy-go-lucky Northerner, cheerily unfazed by everything.
The way this plays out is a little formulaic, but there's an exuberant joy in Kayo's big, loud and dumb caricature.
Sindhu Vee's Comedy Short
With a slightly mad final scene, Live And Let Love feels a little less like a self-contained short than a tester tape for a possible sitcom, as we're introduced to a family we might want to spend more time with.
Sindhu Vee plays Pretti, who has flown to the UK with her husband Ronnie to visit her anglicised sister Gita and her English partner. And while she's here she's signed up to a dating app, determined to have an affair.
For Pretti's an adventurous soul who's been in an arranged marriage for decades… a companionship she's fully accepting of, even though she has nothing in common with her husband. For his part, Ronnie is a clownish comic foil besotted by all manner of weird and wonderful 'spiritual' practices.
A fifth character here is he sister's mother, only ever seen in uncomfortable close-up via an apparently always-on Skype connection. After all, you need an authority character to disapprove of all this.
This feels a little less substantial as a self-contained story compared to some of the other shorts, but does its job in making us familiar with this unusual extended family, and interested enough to spend more time with them.
Review date: 25 Sep 2018
Reviewed by:
Recent Reviews
What do you think?