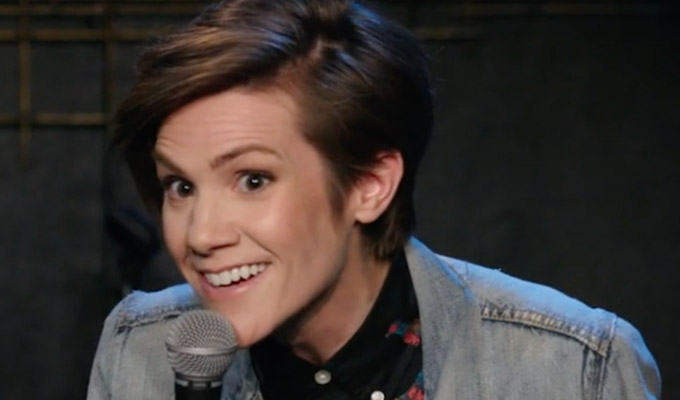 Cameron Esposito: Person Of Consequence
As she makes her British headlining debut, there's a bit of a feeling Cameron Esposito is an 'applause' comedian rather than a 'laugh' comedian, someone who gets claps of support rather than the more primal, involuntary reaction of a guffaw.
It's understandable, given that she's speaking up for the marginalised who appear to make up a large part of her diverse audience, but when the momentum flags, her applause-triggers – often activated by a marginally too-long pause that the audience feels compelled to fill – it feels like a substitute for sharp comedy.
She is certainly so woke that the phrase 'men and women' requires a footnote, while she welcomes any kickback for her using a politically incorrect term so she can learn to be better – in contrast to certain white male comedians griping that their freedom of speech is being curtailed every time their favourite hate slur falls out of fashion.
Despite this, and the fact that the show's title, Person Of Consequence, suggests a certain stridency, Esposito fares best when her social points emerge from the personal, her case best served when she simply talks about her life as a queer woman.
The fact she might be one of the first same-sex divorces is certainly interesting, and rife for further exploration although it still seems a little too fresh in the mind. And in the context of consent, she has an interesting take on gay sex being more of a negotiation than heterosexuals.
On this topic, Esposito won plaudits last year for her impactful and relevant self-produced special Rape Jokes, which tackled the subject of sexual abuse head-on from the point of view of a survivor, as well as raising a small fortune for relevant charities. But Person Of Consequence doesn't have the same focus or sense of purpose.
She certainly kicks off slightly awkwardly, apparently concerned that the Soho Theatre audience isn't quite as excitable as she'd hoped, even before she'd done anything to earn acclaim beyond some inconclusive lukewarm local observations. It prompts her to outright demand her first applause for her pride in coining, on the hoof, the portmanteau Breturn as the opposite for Brexit (though it has, in fact, been used before).
A brief section about Jesus not being as white as most iconography depicts feels familiar, which segues into her super-religious college years where she dreamed of being a priest, despite that not being an option for women. This section eventually comes to life when telling a very funny confessional about her first use of a tampon, having been raised in a vacuum of Catholic innocence
True to the old maxim she closes with her strongest routine, entirely disconnected from any point-making but making the most of her attributes as an engaging, likeable comic as she tells of an audience member who gave her a scare during a gig in Telluride, Colorado, after taking rather too much advantage of the town's lax cannabis laws.
And though it's an entertaining anecdote, the fact it's not a climax to any line of thought doesn't help the nagging feeling that Person Of Consequence isn't especially a Show Of Consequence.
Review date: 12 Sep 2018
Reviewed by: Steve Bennett
Reviewed at: Soho Theatre
Recent Reviews
What do you think?