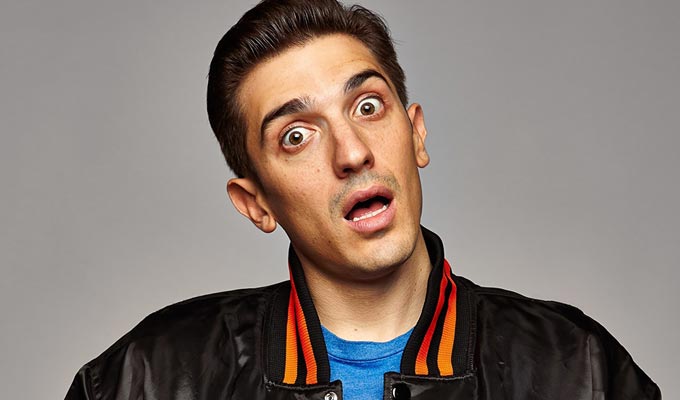 Andrew Schulz: View From The Cis
Two words describe visiting New York comic Andrew Schulz: a) 'hilarious' and b) 'problematical'. Enjoyment of his decidedly unwoke stand-up will depend on whether you think being funny trumps the very dubious morals he espouses.
Pretty much his opening gambit is 'let's talk about the trannies', before a chunk about Caitlin Jenner. He pines for what he considers the good old days before #MeToo, opines that 'you can't sexually assault your wife', and thinks there's truth in Donald Trump's comment that if you're rich, women will let you 'grab 'em by the pussy'.
That such opinions fly in the face of liberal consensus is, of course, what gives them their piquancy. He insists 'tranny' is a contraction as innocent as 'Andy', presenting that dubious reasoning as a cheeky way to flirt with the taboo language. But chances are he hasn't had 'Andy' spat in his face as a menacing insult by a hate mob before a physical assault.
There's a bubbling undercurrent of misogyny, too. Women are only ever mentioned in relation to sex or periods, sometimes both. 'If she dies, she dies,' is another punchline. That said, however, almost all of his hour is about sex, so no wonder the focus is so narrow.
His crowd – overwhelmingly relatively young men, but more multiracial than many theatrical stand-up audiences – absolutely adore him. He's greeted with huge hollers of adulation; some of the harsher lines cause bros to Spasm with laughter in their seats, arms flicking in the air; and there's a standing ovation at the end.
For it has to be said, his 'oh yeah, I went there' swagger is hugely appealing, producing a performance that's full of vigour smashing home with punchline with the muscular, punchy delivery that working-class New Yorkers do so well.
Meanwhile, there's a sense of mischief to the way he pushes liberals' buttons that evokes early Jim Jefferies. Schulz surely doesn't believe all he's saying, but knows it'll get a reaction – though whether he's tacitly reinforcing unedifying attitudes in his audiences we can never know.
Sometimes, if not often, he explicitly subverts the laddish dominance. His bit considering what if 'men bled out of their dicks' each month isn't a fresh comic take, but it's surprisingly feminist, given what wimps he imagines blokes would be in that situation.
But in every routine, he plays dirty, whether because of the sexual content or the provocative stance, appealing to now-unacceptable base thoughts. Often his controversial opinions are expressed in bullet-like jokes – hard, compact and lethal – which cut through societal niceties.
His strike rate flags towards the end as he lingers too much on a routine about performance in the bedroom, but at his most devastating, he's machine-gunning such a hail of those brutal gags that some are bound to hit you, causing guffaws even when you don't approve.
Review date: 12 Sep 2018
Reviewed by: Steve Bennett
Reviewed at: Leicester Square Theatre
Recent Reviews
What do you think?