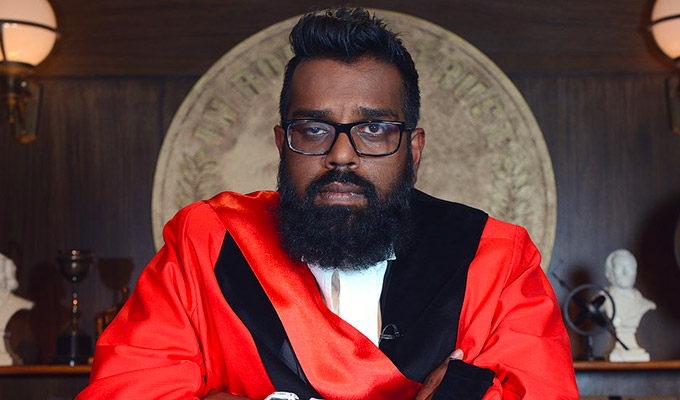 Judge Romesh
Given that Romesh Ranganathan's entire comedy shtick is to be grumpy, intolerant and judgmental, it's perfect casting to have him as a judge.
The format of Judge Romesh will be familiar to anyone who's ever watched daytime TV, as he's following in the footsteps of such gavel-bashers as Judge Judy or Judge Rinder, with real people coming to him with disputes to be settled. And give or take the rap walk-on music, the format isn't that much different from those well-established entertainment stalwarts.
But however short-tempered his forebears can be, it would be rare for them to bark: 'As a human, you are borderline unacceptable' or telling the audience: 'I make the judgements here, dickheads' as the Ranganathan does in the first episode.
He's also employed possibly the only comedian even more surly than he is to be the bailiff, Murder In Successville's Tom Davis, to treat both plaintiff and defendant with equal disdain. Meanwhile, Kerry Howard is underused as clerk of the court.
For all Ranganathan's impatient, sarcastic asides, the show – just like those it is based on - lives or dies by the strength of the arguments, since it's still a human interest format at heart. Case one is fairly straightforward: a husband whose compulsion to bargain-hunt is filling the family home with useless crap and testing the tolerance of his wife. Judge Romesh doesn't hold back on the contempt for Sean's twisted motives, and you can feel he deserves every ounce of it.
The second case is more bizarre; with Giles revealing that the holiday his friend Wes invited him on turned out to be a course in learning how to pick up women - with some pretty unusual techniques. There seems like so much more to this than can be crammed into a ten-minute slot, along with a running gag that Davis assumes they're both stoned, but again Ranganathan can draw on his schoolteacher past to dole out the ticking-offs.
Judge Romesh is not a revolutionary formula, and feels more throwaway telly than appointment-to-view. But it certainly plays to the strengths of the hardest-working man in comedy, while providing opportunities to enjoy the schadenfreude of well-meaning but misguided idiots being given some harsh home truths.
Judge Romesh is on Dave at 10pm tonight, starting with a double bill
Review date: 8 Aug 2018
Reviewed by: Steve Bennett
Recent Reviews
What do you think?