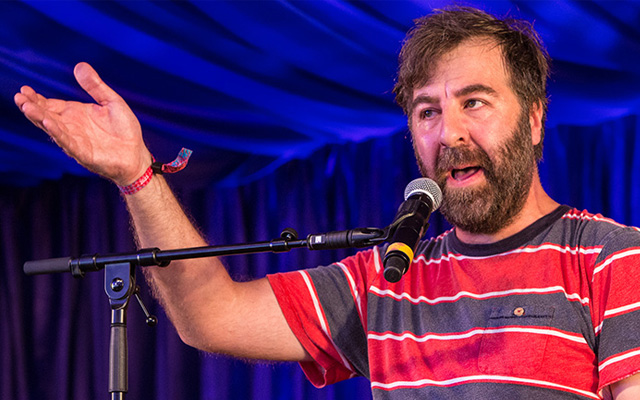 David O'Doherty at Latitude 2018
David O'Doherty suffered a little from being the second slightly shambolic Irishman to take to the Latitude comedy festival stage to talk about how times have changed. And his surprisingly clichéd routine about how we used to have to take photographs with a thing called 'film' paled in comparison to Dylan Moran's take on evolving technology.
But that was a rare misstep for O'Doherty in a wide-ranging routine that included his trademark lo-fi musical numbers, a pleasing cautionary fable about a noisy neighbour (a very new song that might need a bit of a comedy boost mid-track), a little whimsy about the giant cheque he received from winning So You Think You're Funny a lifetime ago; a devastatingly accurate parody of Grand Designs; and a ridiculous story about driving to Newry to get his loose sterling change converted into euros.
This ends in embarrassment, entirely in keeping with his self-deprecatory shtick. His ego might want him to be known by just one name, like Beyoncé or Madonna, but reality gets in the way - and that faux frustration is a driving comic force, boosting the mild-mannered comic's energy.
If he was to achieve his fame aim he would have to slay many more famous Davids – which he has definitely thought about. His creative methods of dispatching each star suggested by the audience are always witty… but exposes just how far down the fame list he is.
Maybe he'll have to settle for not being mistaken for Chris O'Dowd, or getting enough kudos to no longer be heckled by children. Or be happy with the fact that he is one better than a single-name star in comedy circles, where he's known by his initials DOD.
His Latitude set offered a little direct insight into O'Doherty's background, including the revelation that his father was a jazz musician who took in fellow travellers as lodgers and whose wedding was frowned upon in Dublin as a 'mixed marriage' between Protestant and Catholic, such a mish-mash of disparate DNA! And, in tune with comedy's wider direction of travel, a hint at some of the anxieties so many people have. 'Life is hard,' goes one lyric. 'Even for people who seem to have it sussed'.
A cornerstone of the set has DOD imagining going back in time to impart some advice to his 18-year-old self… only for the older man to find himself on the defensive about how his life turned out, not a footballing ace but as a peddler of musical comedy – the 'lamest' genre of them all – with a cheap plastic keyboard.
But O'Doherty has carved out his own niche with that teenager's toy, with a generous serving of hilarious lines amid his impotent complaints about a world that doesn't respect him. Latitude, however, respected him enormously.
Review date: 16 Jul 2018
Reviewed by: Steve Bennett
Reviewed at: Latitude
Recent Reviews
What do you think?