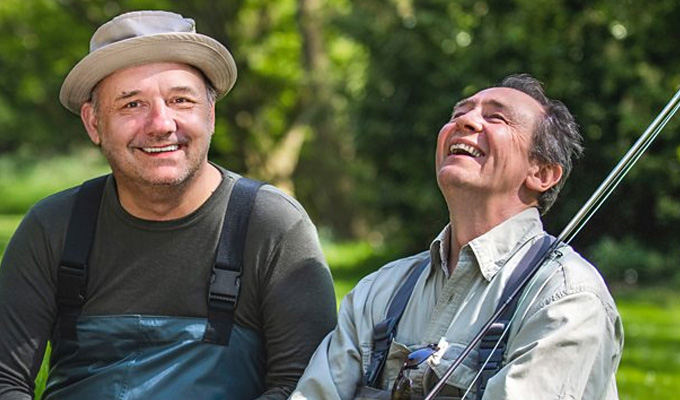 Mortimer & Whitehouse: Gone Fishing
Note: This review is from 2018
Once he was in The Fast Show, now he's in a very slow one.
After their respective heart scares, Paul Whitehouse invited Bob Mortimer – and a BBC film crew – on a trip around the rural corners of Britain in the hope of sharing his love of angling.
The result, Mortimer & Whitehouse: Gone Fishing, is as gently affable as you might expect. Languid drone shots capture Norfolk's countryside in all its verdant glory, the camera occasionally lingering on a mushroom or a skein of geese in the air.
Meanwhile the pair exchange chummy chit-chat about soft-boiled eggs, old songs – and occasionally their health. Mortimer has quite the scar to show from his triple bypass. He misses cheese, and got weepy when he saw his favourite eggcup in his overemotional post-operative state.
So perhaps he can be forgiven if the only drama he wants in his life is whether he and his long-term chum will really catch the tench they head their heart set on. ('Tench, what a funny name,' Bob opines). They visit a brewery and stay in a yurt, but most of the show is on the banks of their lake.
The comparison with The Trip is very obvious: a couple of middle-aged men enjoying each other's company, larking around a bit. Mortimer even throws in a Robert De Niro impression – although you probably didn't realise the Hollywood great had a Middlesbrough accent. And too few mimics impersonate the bream in their repertoires.
And as with Coogan and Brydon's jaunts, there's an easy bonhomie between the pair that can't be faked, and a relaxed wit that is evident, if understated. They have a natural understanding of each other, sharing stents and sensibilities.
'What to we hope to achieve at the end of this, Paul?' Bob asks early in the show
'A bit of inner peace,' comes the reply.
The response is slightly tongue in cheek but Mortimer & Whitehouse: Gone Fishing is certainly quiet and sedentary TV, the ageing antidote to the youthful histrionics of Love Island. It is, indeed, good for the heart.
• Mortimer & Whitehouse: Gone Fishing is on BBC Two at 10pm tonight
Review date: 20 Jun 2018
Reviewed by: Steve Bennett
Recent Reviews
What do you think?