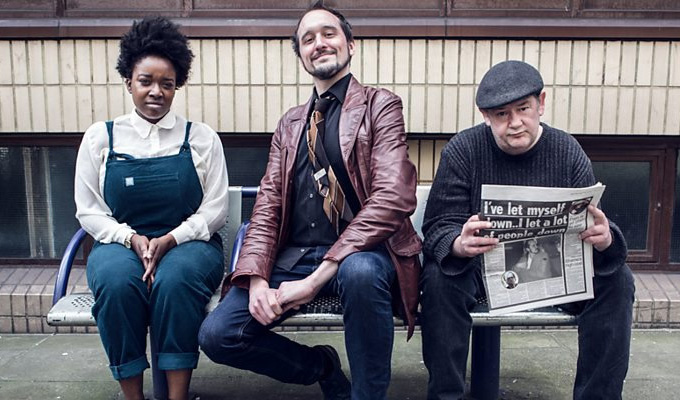 Phil Ellis Is Trying
The general fashion is for comedies to be about some underlying theme, or offering some insightful personal perspective. But if you know Phil Ellis from his stand-up, you won't be surprised that his first Radio 4 sitcom is an unabashedly old-fashioned gag delivery service.
Ellis – the frontman of Edinburgh Fringe hit Funz And Gamez – plays kids' entertainer Wacky Phil, unable to move on following his divorce from Leanne (another staple from his stand-up) and struggling to earn enough money to pay his rent.
But his personal issues are made into the broadest of character traits which can played for laughs. There's no pathos here, nor does the plot have more than a nodding acquaintance with credibility.
Meanwhile, Johnny Vegas – no stranger to sad-sack characters himself – is Phil's landlord, getting some of the more gaggy lines in a script that's full of them as proprietor of a shop full of second-hand tat/celebrity memorabilia.
He is also the former child star an unlikely-sounding US sitcom called Orphan & Games, an idea floated for a short throwaway routine – such is the unsubtlety of the way lines are shoehorned into the loosest of narratives. In episode one the main plot point is Phil going on his first post-split date with florist Ellie (Katia Kvinge), and of course he acts in a dumbly inappropriate way.
Lolly Adefope plays Phil's long-suffering sidekick, slightly dim but eager to be part of the child entertainment business, even going to the trouble of creating a children's character who doesn't quite grasp the basis of feminism.
That the script, which Ellis co-wrote with Fraser Steele, plays everything for gags comes at the expense of story and characterisation to draw you in, and plenty of the punchlines are a little cheesy. But they come fast, and there are also several – usually the ones that take a beat or two for the penny to drop – that are really funny. If simple cornball silliness is what you're after, Phil Ellis is trying to deliver…
• Phil Ellis Is Trying is on Radio 4 at 11pm tonight.
Review date: 5 Jun 2018
Reviewed by: Steve Bennett
Recent Reviews
What do you think?