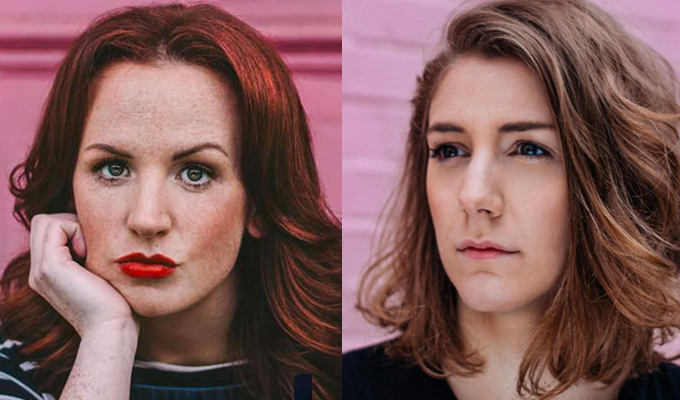 99 Club Female Comedy Bursary showcase
It's not a new act competition, but it has all the trappings, with comics pitted against each other for the chance to win a bit of cash. And lest there be any doubt that the acts are being judged, the show takes place in an actual courtroo complete with judge's bench – albeit one now used as a restaurant's function room.
However, this is not technically a prize that's up for grabs, but a 'bursary': two £500 awards from London's 99 Club to help female (or non-binary) comics cover the staggering costs of staging their first solo Edinburgh show.
First to Take The Mic is Olga Koch, an assertive performer who has to address the pronunciation of her surname, lest it provoke sniggers, and the fact that she's Russian. Cue jokes about watching what she eats in the wake of the Salisbury nerve gas poisonings or about being a mail-order bride – although I'm not even sure that's a stereotype that needs addressing.
Nevertheless, the weight of preconceptions she feels she has to deal with constrains her, until we finally emerge into more interesting territory about the Russian idea of democratic freedom and a great joke about condoms that more tangentially mocks about her motherland's conservative ideas of a woman's place. Her nationality is always going to define her in the UK, but the better gags scratch below the surface, or concern her real life on the dating scene.
Adele Cliff emits a nerdy, slightly awkward, vibe – although she channels her unconventional smarts into inventive lines in a gag-driven set that still manages to reveal a little about herself, from wryly amusing comments about being a disappointment to her parents, especially compared to her high-flying, house-owning, scientist younger sisters, to less consistent musings about trying to get in with the cool set at school. Her delivery is a little dry, which puts distance between herself and the audience, but there's no doubt she's a nifty writer.
The energy in the room picked up in the second half, boosted by a raunchy opening anecdote from host Kiri Pritchard-McLean as she brought Jenan Younis to the stage. Younis is half-Iraqi and half-Palestinian and, like Koch, got a little stuck into addressing the stereotypes associated with her heritage, leading to quite predictable jokes about her being here to recruit for Islamic State… even though she's not Muslim. A relatively inexperienced comedian, she also overused the device of pretending she was talking about some war-ravaged hellhole, only for it to be Bethnal Green, or Birmingham, or Surrey. Yet her background does offer her a unique viewpoint, which peeked through the safer material.
Blessed with the wisdom gleaned from having many more gigs under her belt, Catherine Bohart proved a far more rounded act, bringing more depth and personal attitude to her material about being bisexual and obsessive-compulsive. She's not the first OCD sufferer to berate those who appropriate the formal diagnosis to sex up their mundane tendencies towards tidiness, but she allowed the routine to open up into a frank and discussion of mental health that was funny without straying into the glib or overwrought. She's a thoroughly charming presence, too, straddling a vulnerability in real life with a confidence on stage.
'Two gay women on the same bill!' Sarah Keyworth pointed out. 'Are we in a relationship. Well yes…' She, too, found a winning take on her childhood insecurities, the clichéd lesbian dress sense and how her experiences as a nanny to a posh family have given her an insight into how the other half live, a pleasing personal twist on the comedy of class difference. She has the winning combination of making an audience feel they've got some measure of her life, combined with the ability to create some cracking mental images with her astute, mischievous analogies that really sing.
In the final reckoning, she and Bohart won the £500 bursaries – with £100 to console each of the other contestants – so, thankfully, there's no need for any professional jealousy to creep into their home life. For both are surely destined for ever-greater success.
Review date: 30 May 2018
Reviewed by: Steve Bennett
Reviewed at: Browns
Recent Reviews
What do you think?