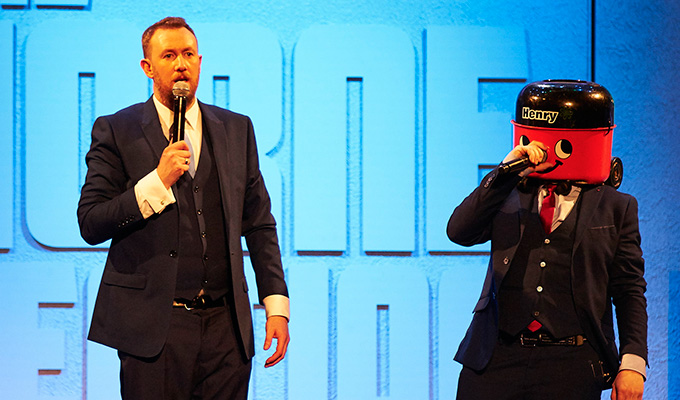 The Horne Section Television Programme
Since Alex Horne brought them such huge success with Taskmaster, the bigwigs at Dave have gone all-in on to bring his passion project, The Horne Section Television Programme, to the screen.
A two-hour, star-studded show right across primetime suggests the execs are hoping to create event TV, even if Horne's dry, low-key delivery is far from the excitability of most broadcasting extravaganzas.
Instead, the longer format invites the audience to relax into his quirky sense of humour, to better attune to his arch, deadpanned wordplay and the wry in-jokes between Horne and his band.
Indeed, Horne sardonically subverts the conventions of a shiny-floor show, from the awkward placement of the musicians high above the stage to rabble-rousing call and response with the audience. 'Are you ready?!' he implores, only to be met with a well-rehearsed wall of silence from the packed London Palladium.
Freed from the role of the put-upon sidekick of Greg Davies's Taskmaster, Horne manages to turn into something of a bully towards his band, too, as revealed in mock footage from rehearsals in the recording studio that breaks up the theatre show. Without quite losing his beta-male position, he's found men of even lower status to punch down at in the form of trumpeter Joe Auckland, saxophonist Mark Brown, bassist Will Collier, drummer Ben Reynolds and 'temporary pianist' Ed Sheldrake, whose name keeps escaping Horne despite eight years in the band.
They are sometimes allowed short sketches without Horne – the song about the seasons, especially, is delightfully silly without overplaying its hand, which is pretty much the vibe of the night.
The band's variants on YMCA, complete with spelling out the letters, is another treat, as is Henry Hoover singing about Chinese five spice, and the joke of 'caveat music', highlighting song lyrics that quickly backtrack.
They are fine and versatile musicians who very occasionally play things straight, such as when providing the backing for Le Gateau Chocolat, a festival favourite who adds a touch of old-school Palladium variety to the mix. For all the lovely odd moments of this show, it's a joy to see someone with genuine talent allowed to do their thing.
Even Nadine Coyle's appearance is relatively sane, albeit with Horne standing in for the other 80 per cent of the Girls Aloud on a new rendition of The Promise and struggling with the dance moves.
Comedian guest Sara Pascoe, herself the daughter of a jazz musician, uses The Horne Section to offer a different take on her routine about going on a yoga retreat. The soundscape provided by the ambient backing makes this almost feel more like a hip spoken-word track than stand-up material.
Meanwhile, deadbeat Joe Wilkinson grumpily shrugs: 'Nah, you're all right' when offered the use of the band to accompany the reading of a typically mundane extract from his alleged autobiography. They riff over his words a bit, but he doesn't think it adds much.
Finally, Sue Perkins might not want to recreate her success on orchestra-conducting reality show Maestro, but otherwise gamely joins in with Horne's other shenanigans.
By this point we've all brought into the stylish silliness of the show – though quite whether it needs to be two hours long is moot. When Dave commissions a proper series – and let's hope they do – an hour will be fine.
• The Horne Section Television Programme is on Dave at 9pm tonight.
Review date: 24 May 2018
Reviewed by:
Recent Reviews
What do you think?