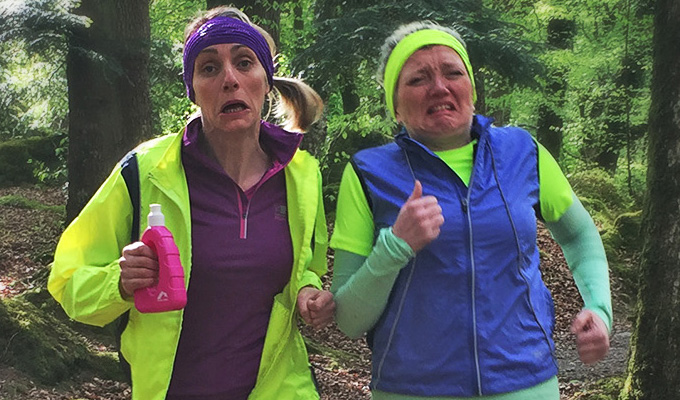 The Big Fat Running Show
The Big Fat Running Show clearly aimed at the running community – particularly those who do 'park runs'. But anyone else is likely to be left bored by this out-of-shape show, thin only on inspiration.
Opening proceedings in the guise of an event organiser giving us a briefing, Andrea Edwards tells us: 'Remember to keep your barcodes on you at all times' – which somehow gets a laugh, presumably as it's a phrase every park runner hears weekly. Similarly, there are knowing chuckles amid much talks of PBs and the run-tracking app Strava, without there needing to be an actual joke attached.
Once the preamble is done, we are introduced to the two main characters– template Sloaney gals, both. Andrea's super-competitive and keen to record a great time on the app, as opposed to Nicola Burgess alter-ego, who's in it for the fun, and barely seems to want to do any actual running at all.
Via a contrived story we also get a couple of stereotypical Irish nuns (why?) whose highpoint is an innuendo about getting the organ out, a bygone scientist who explains how women were traditionally discouraged from running lest their uteruses fall out (at least adding a dash of interest and relevance here), and another couple of characters who exist only for the gag that they stopped at a café then rejoined the race at the end.
With Edwards and Burgess's backgrounds as actors rather than comedians, jokes aren't really their strong point, which is a pretty substantial failing for a comedy show. Their favourites relate to Paula Radcliffe shitting herself in the 2005 London Marathon. They love the topic of poo, it's a constant refrain.
They are enthusiastic performers of this patchy content, and get to sing a couple of old-school revue-style songs, including Supercalifragilisticexpialidocious rewritten to cover all the ailments a jogger could get. But that's the climax, as good as it gets.
The Big Fat Running Show cannot help but jog down the most well-trodden routes. If you're offered tickets, run a mile. Or maybe 5k.
Review date: 24 May 2018
Reviewed by: Steve Bennett
Recent Reviews
What do you think?