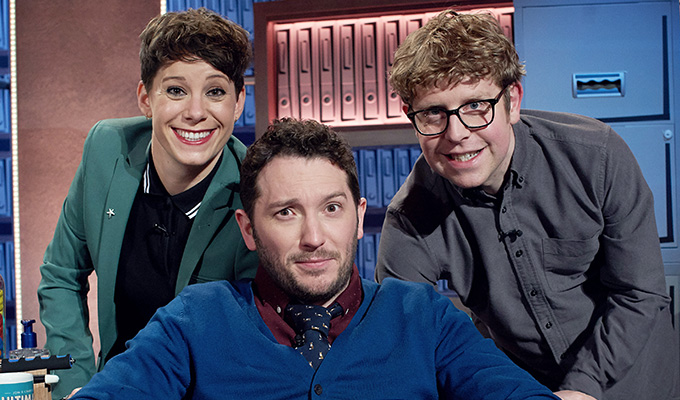 Jon Richardson: Ultimate Worrier
TV channel Dave has a good record of commissioning comedians to do what they do best, whether its Dave Gorman with his PowerPoint, Matt Forde with his politics or Alex Horne with his daft challenges. Now Jon Richardson gets to play to his main strength: worrying.
Without him, Ultimate Worrier would work just fine, but it would be a very conventional panel show. In fact, it would be Room 101, with guests having an entertaining chinwag about what gets their goat.
But Richardson's fretful disposition and his OCD-like tendencies that everything must be 'just so' puts a more distinctive spin on the format. It's rare that a panel show is so closely moulded to the foibles of its host, whose very orderly nature makes a sense of why the object of the hour is to rate guests' concerns into a strict hierarchy.
Actually, what constitutes a 'worry' is fairly loosely applied, as is the idea that episode one is themed entirely around the home, 'where you're most likely to be burgled or involved in a serious accident,' as Richardson reassuringly reminds us.
As an example of this slackness, the host says of his first guest: 'I worry Suzi Ruffell is not as nice as she seems' – a fairly contrived way into an anecdote about the time she was accidentally racist. Later, Josh Widdicombe's 1990s obsession is made into a game show featuring Neighbours characters.
This is one of several set pieces which pad out what clearly should really be a 30-minute format to the full hour a commercial broadcaster can sell ads into. We also get a needless touchscreen doohickey and Richard Gadd doing a sketch, with nicely odd touches and a typically intense performance – but a punchline that's very easy to see coming.
Then there are the obligatory bits of viral content nicked from the internet, such as the YouTube pranksters (rightly denigrated as dicks by the studio panel) and recordings of an app that monitors your somniloquy, or sleep-talking. But this earns its place thanks to the guy convinced there's a womble in his bed, an hilarious clip that proves real people can be weirder than any fiction.
Overall, it's an entertaining passer of time, which is all that a panel show really needs to be, but with an extra edge thanks to Richardson's proud fastidiousness. He's a man on a mission to ensure every dishwasher is correctly loaded, and he's going to use this nationwide TV platform to preach that gospel.
Jon Richardson: Ultimate Worrier starts on Dave at 10pm tonight.
Review date: 16 May 2018
Reviewed by: Steve Bennett
Recent Reviews
What do you think?