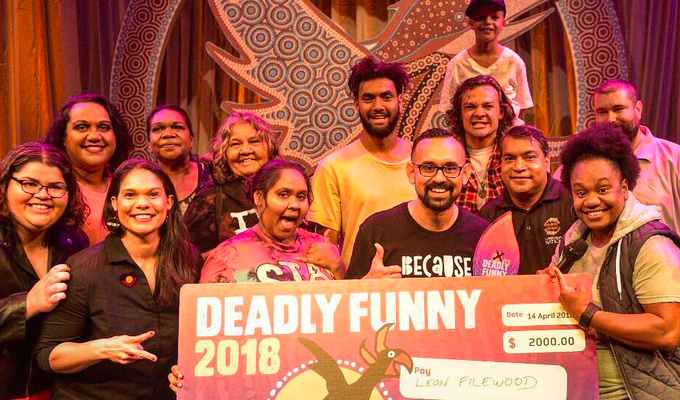 Deadly Funny 2018
For the past 13 years, Deadly Funny has been giving a much-needed platform to indigenous Australian comedians, offering a big gig to those just starting to explore the idea of stand-up.
Compared to many new act competitions, the inexperience of the finalists can seem exposed. But the spirit of the showcase is to make concrete the celebration of the 'rich tradition of storytelling and humour' mentioned in the announcements played before every comedy festival show, acknowledging Aboriginal history.
The winner of this year's competition was Leon Filewood, from the tiny Thursday Island in the Torres Strait between Australia and Papua New Guinea, with a playful take on 'blackfella' stereotypes, from fathering many children to having skinny ankles – sometimes reinforcing them, sometimes subverting them. And sticking it to fearmongering Pauline Hanson won him lots of support.
Bill Makin rated highly, too, with a well-formed set that ranged from a couple of well-observed gags to a skilled piece of storytelling about the time he was visually abducted from home when still a child. The most entertaining yarn, however, was spun by 60-year-old June Mills, who was baffled by how her new hose apparently kept shrinking, a scenario she acted out with aplomb.
Michael Naawi, a first-time comedy performer, demonstrated a great physicality, entering the stage on his belly, so it's no surprise to learn he's also a hiphop dancer. His narrative lost the way as the set progressed, but he's not half bad for a rookie. However he clearly overran his time, as the lights brutally cut out midway through his set.
It felt as if the timekeepers indulged Maggie Walsh a little more, although she was ultimately plunged into darkness, too, as she virtually dared producers to pull the plug. She started very strong, with boasts about being a 'deep thinker' and clearly enjoyed being on stage. Perhaps a little too much as she lost focus purely to bask in the moment… but she has something.
Dion William can boast a winning swagger and nice line in self-deprecation, though his rap about food was better musically than it was comically. Likewise, Kylene Anderson proved a charismatic presence, even if her comments about men being superficial were, well, superficial, while the supercharged energy of Elaine Crombie compensated for circuitous material.
Also taking part were filthy-minded Dora Smith performing her first gig, Ky Ambrum performing his third (and with a nicely cheeky opening line), old-school gagsmith Richie Fejo, and Kimberley Lovegrove speaking of her reluctant efforts to get in shape. And all still taking baby steps on the nursery slopes of stand-up.
Review date: 15 Apr 2018
Reviewed by: Steve Bennett
Recent Reviews
What do you think?