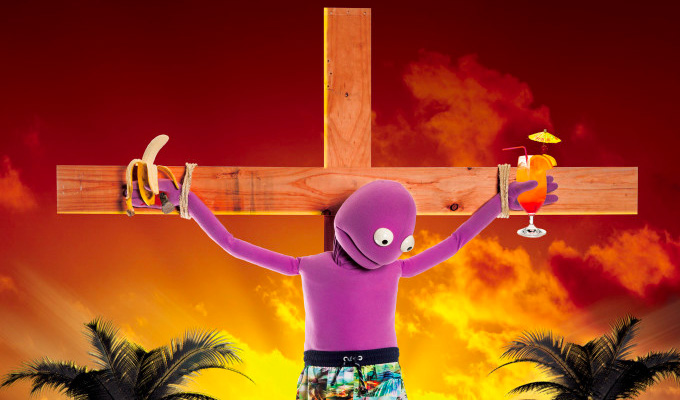 MICF - Randy's Anti-Crisis
Since this show features Randy in a cassock, behind a pulpit, and surrounded by religious paraphernalia, it might seem churlish to complain that it's a bit preachy.
But after a blistering 30 minutes or so of comic ranting, including some sterling crowd work and a bleakly funny section about the harsh realities of life on the road, Australia's favourite purple puppet takes a peculiar didactic turn, as he sets out his new religion of kindness and anti-consumerism. Merchandise is available afterwards.
That's no joke. Nor is his dogma, which he imparts entirely earnestly. 'I can feel you retreating,' he tells his audience, as they start crossing their arms, asking themselves what happened to the funny. Nonetheless, he ploughs on, impelled to share this worthy message, even if it's not revelatory, insisting humanity has the power to change its destiny.
The tricksy coup de theatre he ends on should have been a real climax, but instead it feels like a frantic doggy-paddle back to safety, since he lost so much comic ground with the speechifying.
His new church is based on Berylism, a theory he just made up – or found in some shady corner of the internet – that homo sapiens prevailed over rival evolutionary spurs 60,000 years ago by the intervention of an interstellar visitor called Beryl who will return – like all good Messiahs should – to sit in judgment on what we have done with the gifts she bestowed. It will not look good.
Before he swallows his own rhetoric, Randy's analysis of faith is fruitful, without being a knee-jerk dismissal of all religion, nor a sneer at anyone's beliefs – though he does deliver a brilliant 'Catholic guilt' quip during one exchange with the audience. Not all interaction is quite so smooth, but Mr Feltface – aka puppeteer Heath McIvor – has the skills to pluck victory from the jaws of defeat on more than one occasion.
Before things went weird – the turning point being a DIY hand-animated history of the Earth from Big Bang to now – Randy mines some great comedy from George Michael, from the census and from the operation he underwent this year to remove his spleen. Yet somehow he still manages to vent it.
For whatever the unevenness of the content, this is a typical powerhouse performance, with McIvor's puppetry skills as sharp as ever, able to convey genuine emotion with a tweak of the sponge. In fact, it's easier to suspend disbelief and be persuaded this is a real person than it is to buy his religious theory. That's real faith.
Review date: 13 Apr 2018
Reviewed by: Steve Bennett
Reviewed at: Melbourne International Comedy Festival
Recent Reviews
What do you think?