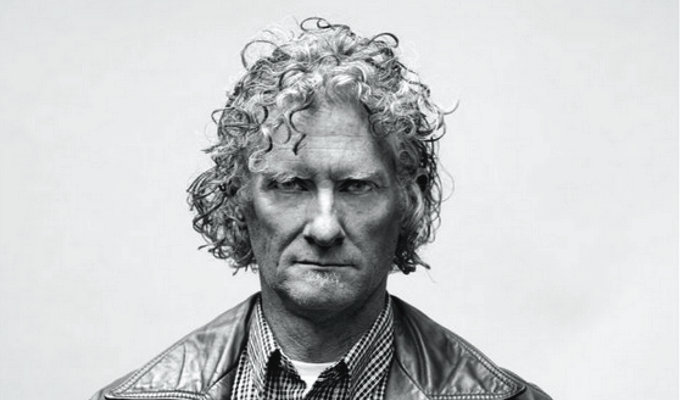 America Stands Up 2018
Even as thousands of Americans marched on Washington in protest at US gun laws, it's indicative of these bizarre times that at least one in Glasgow was commending the sentiment while fantasising about President Trump's assassination.
Dave Fulton is not a natural compere and over-ran with his stage time. But he knows how to tickle Scots with a caricatured piss-take of their diet, alcoholism and penchant for aggressive violence, while painting a cartoonishly doomed portrait of his homeland.
Like Scott Capurro, his predecessor as host of this consistent highlight of the Glasgow Comedy Festival, in which a few, relatively unknown US stand-ups make their UK debuts, Fulton appreciates that going dark sets the bar for newly arrived comics and an unfamiliar audience. His gags about the Boston marathon bombing certainly dispensed with anyone's need to test boundaries or calibrate for taste.
Born in Idaho but a long-time resident of London, the white Fulton paints an entertaining picture of his almost accidental adoption of his five-year-old black son. And he puts the US in a global context, perhaps necessarily so.
Because if there's a recurring weakness to this showcase, it's that the acts involved, while invariably slick with a well-honed set, tend to be narrowly preoccupied, and almost exclusively with critiques of their own personalities.
That's perhaps natural when your status as a foreigner automatically marks you out as exotic, and when you come from a place that's such a melting pot of competing backgrounds. But from these tight sets, the last thing you get is any real sense of America, unless the cult of the individual there truly does trump all.
That's rather by-the-by, though, because on the merits of each comic, this was definitely one of the show's stronger years.
Matteo Lane must have set some sort of record for the speed with which he declared himself 'gay, obviously' upon arriving on stage, applying his caustic incredulity to phenomena like Poundland and finding a perversely fresh take on them all.
Something of a waspish snob back home, withering in his disdain for Starbucks, his Italian-Mexican heritage and fussiness causes greater cultural confusion around Europe, where his homosexuality is camouflaged by his moustachioed Latin appearance, as he flip-flops between being the prissy tourist and the crass invading Yank.
A charismatic delivery elevates occasionally serviceable writing. But it's with economy that he characterises his proud Italian-American parents, and his Vietnam-serving, deer-hunting father in particular's struggle with both he and his brother being gay, closing with a bombastic musical exploration of his mother's fertility.
Similarly, Jenny Zigrino wasted no time in acknowledging that she was fat and conjuring an amusing tableaux of drunken, rowing Glaswegians interrupting her hotel sleep in the early hours. A witty excuse for drink-driving required a more nuanced set-up though, as she over-estimated the room's tolerance for that sort of behaviour, no matter how imaginary.
She also got bogged down in an exchange with an audience member who admitted to sending dick pics, when her prepared material on the subject, noting the respective tendencies for foreskin or otherwise on different sides of the Atlantic, was much more arresting.
Yet if, at 31, she's becoming less interested in edgy guys, Zigrino retains a vim and feminism that tends to the mischievous, not least in her dubious position of role model to her ten-year-old sister. Sexually frank if self-deprecating, understatedly Jewish and reflecting upon being a larger-bodied woman, the lazy comparison to make is with Amy Schumer. But she has enough of her own neuroses and quirks to make her distinctive.
Last up was Anthony Devito, who managed to casually score some big initial laughs from his physically indeterminate ethnicity, even as he combines it with a family background so Italian-American it's inherently laughable.
With an easy conviviality, he built up a compelling account of his racist, 92-year-old grandmother and her black, 65-year-old care home toyboy. The physical and social obstructions to their impending nuptials provide him with rich fodder that he manages to tease out into imaginative further consequences.
Raised in an all-female household and with an age gap in his own relationship, this hirsute, slightly schlubbish man never champions himself as one of life's winners. Still, the wry bemusement with which he greets adversity delivers plenty of unexpected triumphs, exemplified by the devilishly inappropriate scenario in which he gathers together anyone who's ever seen his penis.
Review date: 25 Mar 2018
Reviewed by: Jay Richardson
Reviewed at: Glasgow Stand
Recent Reviews
What do you think?