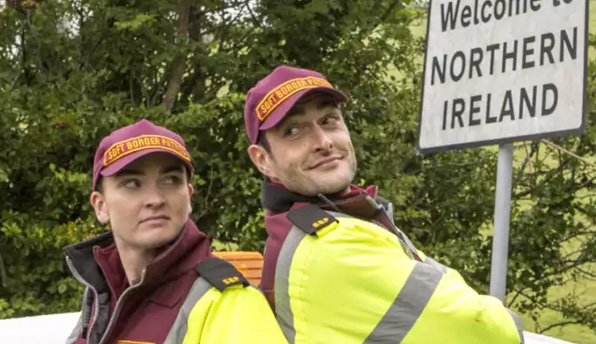 Soft Border Patrol and The Young Offenders
Well, it couldn't be more timely: a comedy about those patrolling a fudged border between Northern Ireland and the Republic after whatever botched Brexit deal is struck.
Those on the Soft Border Patrol are suitably unclear about their role. 'We patrol the border, but are here to let you through,' says one character on BBC One Northern Ireland's new show.
There are quite a few wry lines like this, but is the show funny? The answer to that is as ambiguous as the border issue itself.
It's shot in the ubiquitous mockumentary format, which has become something of a curse of modern comedy (not least among comedians making shorts for the internet). There are lots of knowing glances and ironic drollery, but little to make you laugh out loud.
Karen Hassan as Lisa McCoy, the office-bound head of the force, clearly thinks she's in W1A, spouting various meaningless vacuities. But it's quite a pale imitation.
Meanwhile there are few real crises to drive the drama and force the characters into a corner. Such is the gentle nature of their work that a farmer's unauthorised plank across a stream between the UK and Ireland is the biggest issue of the week.
McCoy's agents – including Neil Delamere as a CCTV watcher – are a uniform lot, all mild-mannered and well-meaning, no greater motive than having an easy life. The sign of good writing is said to be that if you covered the name in a script, you could still tell who was speaking. But you'd be hard pressed to find much that differentiates this lot.
Yet there are positives too, normally from the people they encounter. The racist woman concerned about the local store selling 'Eastern European food from Spain' is a nicely spurious stereotype, while taciturn Farmer Campbell (David Ireland) Is a good contrast to the vacillating patrol officers. And stand-up Michael Stranney pops up as an agitated activist campaigning for the reunion of the original nine counties of Ulster… but struggles to name them all. There seems to be a truth in that.
So yes, the writers have smuggled a few decent jokes in while keeping the show as good-natured as the characters that populate it. The tone's not especially cynical – which might frustrate those who think this is a subject with plenty to get angry and bitter about - and the
Hopefully whatever solution is negotiated for the Irish border won't lead to a ban on comedy shows crossing into the UK, as last night's Soft Border Patrol opener was scheduled next to an episode of The Young Offenders, which showed the Cork-set show to be in a different league.
This was a remarkable piece of comedy with real emotional heft, swooping from great slapstick to dark humour and on to powerfully dramatic scenes, with a very deft touch. For a show about skangers, and with one storyline involving the killing of a duck with a hammer, The Young Offenders is suprisingly touching.
If there's any justice, Hilary Rose should scoop handfuls of awards for her role as Mairead, the single mother struggling to do the right thing for her son Conor (Alex Murphy), especially worried about the company he keeps.
Her character is essentially humourless, yet she's the heart and soul of this brilliant, surprising comedy that the BBC seems determined to hide in the schedules.
Review date: 3 Mar 2018
Reviewed by:
Recent Reviews
What do you think?