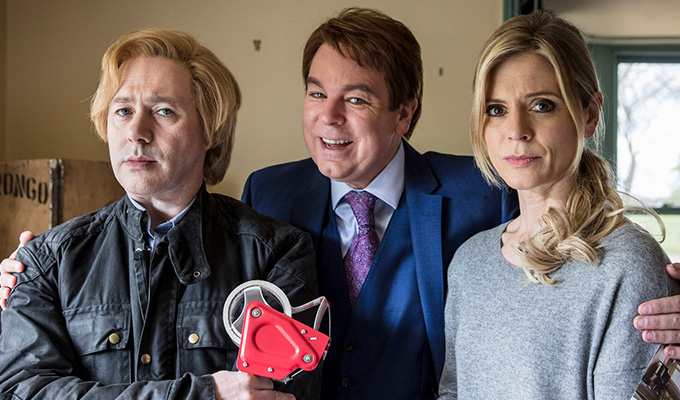 Inside No 9: Once Removed
With another great episode tonight, this year's series of Inside No 9 is shaping up to be the best yet - and that from an already strong baseline. As always, this preview won't contain any major spoilers, but if you want to be completely surprised, click away now.
Once Removed starts with a removal man (Nick Moran) calling on a large rural house – complete with Aga – to find a rather flustered Monica Dolan surrounded by almost-packed boxes. They share a little awkward banter about the stresses of moving house – including the occasional double entendre, delivered entirely straight – before being joined by Reece Shearsmith, oddly dressed in woman's nightgown and oven mitts.
Then, very quickly, the stilted conversation makes way for smoothing a lot more gruesome, though the real twists are in what follows. The trick Shearsmith and co-writer Steve Pemberton have employed here is to run the scenes in reverse chronology to explain how we got to this point, each act taking place just before the one just witnessed.
It's a trick that's been employed by other comedy writers before – most notably in an audacious episode of Seinfeld, channelling Harold Pinter – although a point of difference here is that were the scenes to be reassembled in the right order, you'd get a half-hour in real time.
The tone is a bit Agatha Christie, with dastardly deeds treated as a bit of a parlour game, albeit with added nastiness. There are certainly some larger-than-life characters in the ensemble, not least David Calder, the dementia sufferer convinced he's is Andrew Lloyd Webber, providing some odd comic relief. The comedy is not always credible, but all mischievous jinks with a whiff of murder in the air.
Pemberton, in a wig that makes him look weird like Michael McIntyre, plays the desperate estate agent trying too hard to shift the property, while Emilia Fox, puts in a great turn, as you would expect, grounding the more outrageous shenanigans in some semblance of normality, a loose concept whenever Inside No 9 is concerned.
As always, the way the plot strands all resolve is immensely satisfying, after keeping the viewer guessing what's coming next. Or rather what came before.
• Inside No 9: Once Removed is on BBC Two at 10pm tonight.
Review date: 16 Jan 2018
Reviewed by:
Recent Reviews
What do you think?