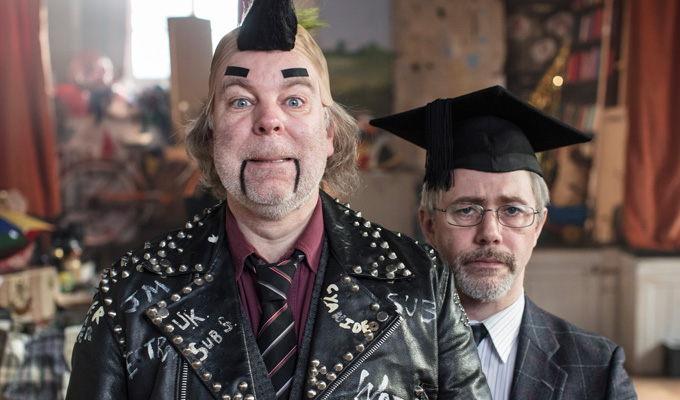 Inside No 9: Bernie Clifton's Dressing Room
Viewers of Big Brother might remember how Jim Davison reduced Linda Nolan to tears in the 2014 celebrity version with the cryptic comment: 'Ask her about Frank Carson's dressing room…'
It seems Reece Shearsmith and Steve Pemberton have taken that as their cue for their latest edition of Inside No. 9, even if it is a rather less epic incident than the timeless horror and thriller stories that often inspire them.
In their latest story, the comedy double act play, well, a comedy double act – but of a more traditional stripe: a short-lived Eighties duo called Cheese and Crackers who, with their single series on Anglia TV, ranked several places beneath Little & Large and The Krankies.
But, like Cannon and Ball, they had a terrible falling-out – a mysterious incident in Bernie Clifton's dressing room was the flashpoint – so this reunion after three decades is a tense affair.
As they reconvene in a draughty rehearsal room, it's clear that Tommy (Shearsmith) has moved on. He now prefers to be called Thoma, lives in France and runs an international digital marketing agency. He is very serious-minded, unsentimental about the planned comeback. Len (Pemberton), however, appears to have fallen on hard times and has only happy memories of the good old days that he's keen to rekindle.
As the pair run through their old act, it's clear it hasn't aged well –if, indeed, it was ever much cop in the first place. The routine seems to consist of entirely terrible generic old jokes – the sort you'd probably never thought you'd hear Shearsmith and Pemberton put into a script – over-sold by Len's exaggerated mugging.
Certainly Tommy's embarrassed by it all, and insistent their 'Ching-Chong Chinaman' sketch should never see the light of day again. But with Len insisting 'a laugh's a laugh however you get it', the pair run through the age-old debate of whether comedy needs higher motives.
To make things a little more interesting than merely mocking old-school comedy, Shearsmith and Pemberton concoct an Eighties-style slapstick section for their alter-egos based around Ten Green Bottles which would still pass muster today, rather like the drunken Noddy routine still told by Mick Miller, who gets a namecheck.
Of course, being an Inside No. 9 there's an extra twist or two to this reunion that makes it all the more bittersweet, and adds an extra depth to this sympathetic, sentimental character study.
And Jim Davidson's comment? That turned out to refer to an incident a quarter of a century ago in which Linda Nolan's husband was filmed stealing a wallet, and was later charged over.
• Inside No 9: Bernie Clifton's Dressing Room is on BBC Two at 10pm tomorrow.
Review date: 8 Jan 2018
Reviewed by:
What do you think?