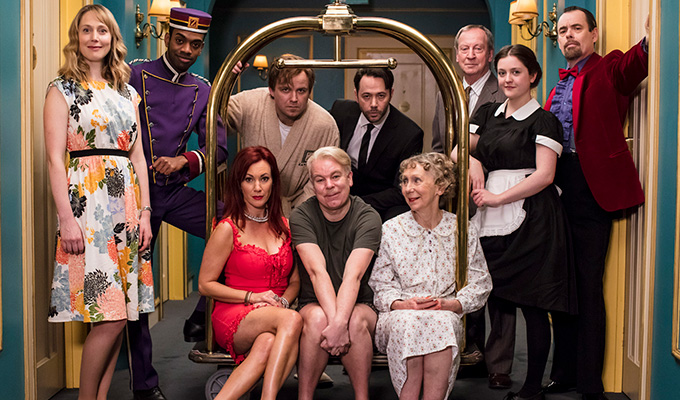 Inside No 9: Zanzibar
WARNING: We've tried to avoid giving too much away but this will inevitably contain spoilers if you want to be completely surprised by tonight's episode
It's known for being dark as much as it is for being creative – but Inside No 9 kicks off its fourth season with a tone at the playful end of Steve Pemberton and Reece Shearsmith's spectrum.
But, of course, there are twists. Set on the ninth floor of the Hotel Zanzibar, this story is told in iambic pentameter. And that is not the only Shakespearean element to the episode. There's a prince and a disloyal lieutenant with murder on his mind, and an unlikely backstory of Twins separated at birth, and even a love potion – plot points that could, and have, been drawn from the Bard's folio.
But it is Shakespeare crossed with Ray Clooney, with the farcical elements writ large. Rooms are swapped, a prostitute is ordered and a cheap but well-meaning marriage proposal put in jeopardy. An elderly dementia sufferer is baffled by what's going on, but it's testament to Pemberton and Shearsmith's typically tight script that the audience keeps up with all the spinning plates.
The cast is as starry as ever; the creators taking relatively minor roles in all the chaos and confusion they have unleashed.
Top billing goes to Rory Kinnear, playing the prodigal royal, but there are fine turns from the likes of Bill Paterson as a depressive guest, Tanya Franks as a brassy prostitute and Kevin Eldon as a stage hypnotist who's been working the showroom downstairs – all of whom have great fun with their relatively brief appearances. Zanzibar looks like it must have been a blast to film.
Inside No 9s always feel like nothing else on TV. With all the action taking place in the hotel corridor, Zanzibar could almost be a filmed version of theatrical production, while the rhymes and rhythms add to the distinctive vibe.
Yet at its heart, Zanzibar is an old-fashioned comedy of confusion, wittily executed and hugely satisfying in the way all the strands intertwine for the tidy resolution required.
• Inside No 9: Zanzibar – the first episode of series four – is on BBC Two at 10pm tonight.
Review date: 2 Jan 2018
Reviewed by:
Recent Reviews
What do you think?