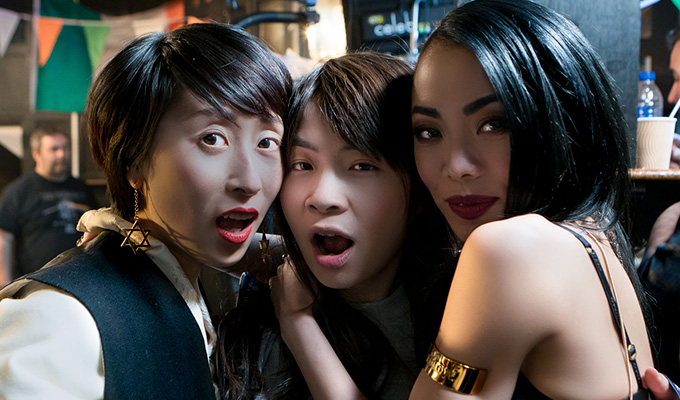 Chinese Burn
This week's BBC Three comedy pilot sets out its stall from the second it starts. 'Chinese girls,' says the voiceover. 'Sweet, innocent, submissive Chinese girls. Conservative and virginal. good at maths, ping-pong and looking after men….' Then, angrier: ' Screw that! Here are three Chinese girls who kick that shit in the ballbag! We're Chinese girls in London, bitches! You're gonna love us long time.'
Our trio are the punky, feisty would-be actor Jackie (Yennis Cheung); the struggling Elizabeth (Shin-Fei Chen) trying to compensate low self-confidence with a string of disappointing one-night stands, and the kooky, naive Fufu (Yuyu Rau) – who's from a wealthy family and newly arrived in the city, in awe of all its attractions.
As indicated by the intro, the show is very much about challenging the stereotypes. Jackie Is always auditioning for roles of kung-fu-fighting prostitutes, for instance. However South East Asian characters are so invisible on British TV, archetypal roles might even be a step up.
But the irony is that when tackling stereotypes, Chinese Burn s still defined by them, even if contrast, and even if confused racial ignorance mirrors the real experiences of Chinese people in Britain. So there are jokes about an uptight white woman (Alan Partridge's Felicity Montagu) thinking that Fufu wants to eat her dog, like the Koreans supposedly do, or the girls being hailed by the Japanese 'konichiwa' in the street'
Chinese Burn's point of difference is obviously the ethnicity of the stars, but that aside, not all of the writing – by Cheung and Chen – feels particularly distinctive. How many times, for example have comedies shown a lead character running into an ex and their new partner at their lowest ebb? Here it's Elizabeth, employed to wear a giant soft drink costume to drum up custom for a restaurant. It's just a temporary job, she says, as she really wants to be a sommelier.
Putting race aside – if you can, since that's the USP – and this is a lively comedy about three young women trying to find their place in the city, ambitious but thwarted by circumstance. Jessica Knappett's Drifters, basically.
And while not all the scenarios are distinctive, the comedy is shot with spirit and energy –epitomised by the bold, cartoon-strip style captions that pop up to translate Chinese insults – and with spirit that's big on defiance. Though beyond such broad strokes, we don't really get to know the characters, for that would ultimately determine if this show's got staying power beyond the pilot.
As it stands, it might require some arm-twisting for Chinese Burn to go to series.
• Click here to watch Chinese Burn on iPlayer or here for our review of the previous Comedy Slices pilots, Enterprice and Sticky.
Review date: 27 Nov 2017
Reviewed by:
Recent Reviews
What do you think?