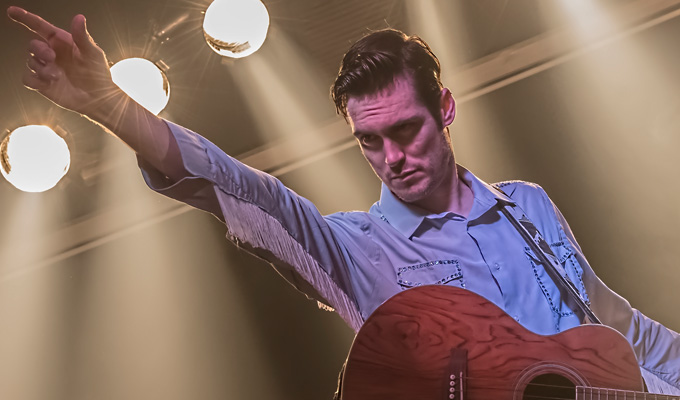 Rob Kemp: The Elvis Dead at Soho Theatre
Elvis lives! But others aren't so lucky in this retelling of the Evil Dead 2 through the songs of The King, an unlikely mash-up which was THE cult hit of this year's Edinburgh Fringe.
It's a simple if peculiar premise, which Rob Kemp introduces in an affable 'does-what-it-says-on-the-tin' way. He's unable to stifle a smile at how preposterous a concept it is, clearly amazed that this is a viable show, both baffled and grateful that anyone's turned up for its London run.
This introduction is important to build rapport, acknowledging that he knows how silly this venture is – for he puts such commitment into the performance we need to know he's not taking it too seriously.
He also tells us to 'treat it like a concert' for maximum enjoyment; advice that's only partly heeded tonight as the Soho Theatre press night crowd – maybe heavy on the jaded industry types – don't fully let their hair down, making the atmosphere slightly more muted than the spirit of the show encourages.
For while the film may revolve around the undead, the gig is full of life. Kemp has a great Elvis voice, and he relives the trials of our tormented protagonist Ash Williams with vigour, throwing himself across the stage, smashing himself with plates and reducing his nice rhinestone-encrusted shirt to tatters.
Although gory, Sam Raimi's original 1987 horror always had its tongue in cheek, and Kemp's reinterpretation only reinforces that black humour. The melodrama Elvis so loved in his tracks also feeds into the heightened supernatural drama of severed limbs, bloody chainsaw battles with zombie witches, and possessed trees with their grasping tentacles (well, they do have a wooden heart…)
Classic toe-tappers are given new lyrics to tell the story. Are You Lonesome Tonight becomes Are You Losing Your Mind? as insanity kicks in; Burning Love becomes a song to the 'hunk of burning skull' rolling around the wood cabin.
But the commitment to threading this all through one idea elevates one of the oldest crowd-pleasing tricks in comedy to a much more satisfying piece. And each revelation as to how he's shoehorning a hit to fir the bloodbath on the screen behind him offers a fresh laugh each time.
A few neat touches add more texture, too, from Kemp's occasional raised-eyebrow aside to the audience, to the caption which drolly reads 'one violent possession later'…
Being in the Soho Theatre's basement loses some of the underground feeling of seeing the Elvis Dead in a cramped Edinburgh cellar at midnight – but that's set against much better sight lines and tech that makes Kemp's lyrics that much crisper.
And the ethos of one man doing something with talent and love, for no other reason than his own amusement, is – unlike our hero's right arm – left mercifully intact. It's bloody good fun!
• The Elvis Dead is at Soho Theatre at 9.30pm until Saturday, then at 11.30pm on various Friday and Saturday nights.
Review date: 16 Nov 2017
Reviewed by: Steve Bennett
What do you think?