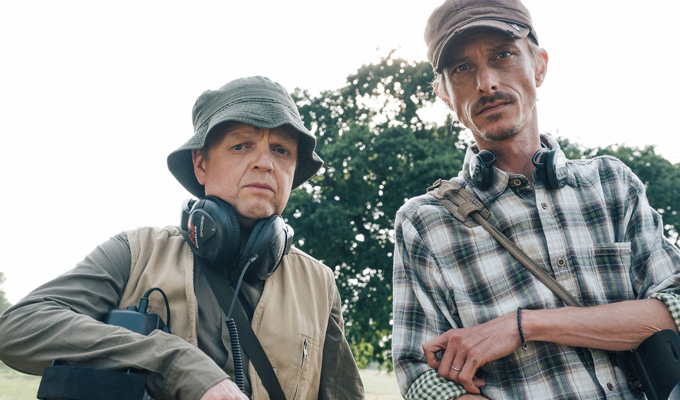 Detectorists Series 3
The camera sweeps high over the gleaming steel and glass edifices of the City of London before cutting to sharp-suited executives pacing corridors with urgency and purpose, underscored by serious music.
From the opening shots of series three of Detectorists, you'd be forgiven for thinking you'd mistakenly tuned in to The Apprentice. But fear not, we are soon back in the quiet rural backwater of Danebury – a place so sleepy that the dropping of a set of keys becomes village gossip.
These first scenes serve to established the contrast between Mackenzie Crook's delightfully relaxed comedy and the more frenetic pace of much of modern telly. And also serve to establish the big plot point that Church Farm – the land that Crook's character Andy and he best mate Lance have spent five years scanning for hidden gems – is set to become a solar energy farm.
The pluck of the Little Englander versus corporate might has been a staple since Ealing comedies and beyond; but if that is to be a story arc of the third – and apparently final – series of Detectorists, there are also more personal challenges to overcome too.
Andy, his wife Becky (Rachael Stirling) and their young son are forced into living with Becky's overbearing mum, played by Stirling's real-life mum Diana Rigg, as they save up for a deposit for their own place.
Meanwhile, it soon becomes clear that what seemed like his ideal job, as an archaeologist on building sites, isn't all it was cracked up to be. The project manager – a typically strong performance of classily awkward understatement by Tim Key – is clearly keen to ensure that nothing is unearthed that might delay construction.
Speaking of understatement, Toby Jones's Lance remains the fragile heart of the show, struggling with changes to the quiet, life he had built for himself, lonely but in control.
His previously estranged daughter Kate has moved in and – horror of horrors – cut a chunk out of his block of cheese with no thought for symmetry. And that's just the start of her conflicts with his quiet, finickity life. Yet so terrified is he of losing his relationship with her again, he has to bite his tongue on so many issues.
Pulling the other way is his tentative relationship with Toni (Rebecca Callard) – even though he won't stay on her canalboat because of 'seasickness'. Or maybe it's just the fear of opening up and sharing his fastidious life that's making him nauseous, that seems to be the subtext.
For, as so much of this delightful series, while it seems like nothing much is happening, there's such a lot beneath the surface, hidden from view. What a perfect metaphor metal detecting turns out to be.
• Detectorists returns to BBC Four at 10pm tonight.
Review date: 8 Nov 2017
Reviewed by:
Recent Reviews
What do you think?