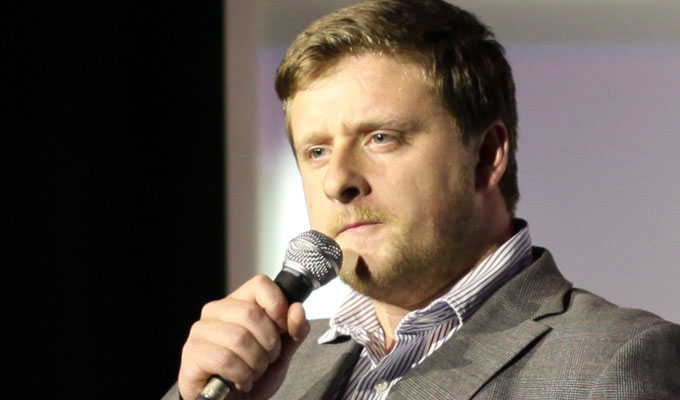 Vodafone Comedy Carnival - Comedy Showcase
There are plenty of big names at Galway's Comedy Carnival - but room too for Ireland's up-and-comers... at least in an afternoon slot at the Roisin Dubh.
In the event, though, this showcase was something of a slog - often flabby sets proving too much of a contrast with the big names on offer elsewhere - despite a few choice moments.
Compere Kevin O'Sullivan is not the most natural at putting people at their ease: a couple of invasive questions and a lot of 'where are you from?' banter that would have been better had he asked 'where is this going?'. He was outsmarted and flummoxed by punters, especially a 75-yeah-old Canadian tourist, on more than one occasion.
His shtick that he's spaced out on drugs is a little too convincing - he certainly seems too unfocused wastrel. All the jokes centres on drugs too - and there's little duller than a druggie talking drugs - except a routine about the 'are you a terrorist?' question on American immigration forms.
Starting with a joke you can get from the internet, Sean Sheridan was hard work too - a low-energy performance that did nothing to punch up workaday stories about the time he worked in retail. An overlong sexual anecdote designed to make one particular member of the audience feel awkward and embarrassed outperformed his aims... by the end, everyone in the room was feeling awkward and embarrassed.
Maxine Jones at least had some actual jokes about her life. Even if the delivery feels a little scripted (and the observation about Lidl's odd stock is old). She has some interesting biographical facts: she was Ireland's first divorcee and holds an over-60s 1500m record, both dispatched in quick one-liners. Though there's an interesting undertone about what to do with her life now her kids have flown. 'You've had your future,' they tell her brutally and bleakly. There could be more to mine in that seam.
There's definitely something funny and distinctive in Oisin Hanlon's bones, though he's yet to develop to his full potential. He's quirky and odd in a way that's probably more unnerving than endearing, but he plays up to this well, exploiting people's reactions to his apparently sinister vibe.
His anecdote involving encountering a fetishist in Berlin doesn't pay off for he time he spends on it, but he's got an appealing, intriguing vibe and a winning, offbeat flow. Give him another year or two to try to bottle what he has and he could be on to something.
Stephen Ryan, pictured, plays up a different sort of outsider - superior and aloof in his three-piece suit and clasping a leather-bound book for gravitas. He looks as if he's having his portrait painted to hang in a university library. The stance allows him to look down his nose at life's oddities from his elevated position. And the jokes are usually solid, though more variation from the sex punchlines would add texture... losing the rather tired 'who called it a low job?' observation might be a start.
Like Sheridan In the first half, Brian Gallagher's slowness of delivery only served to emphasise how few gags were in it. The bulk of his set was about the time he genuinely lived in Australia with 15 Iraqi refugees, one of whom was called Jihad - so you can imagine the troubles that caused. Gallagher therefore doesn't need to spell it out over more than five minutes, a couple of quick gags would have done it - the rest is all padding.
Similarly, Emman Idama had an interesting backstory that was under-exploited and over-long. Born in Nigeria, his Christian mum and Muslim dad competed to sign him up for their respective religious teams. He's a very charismatic guy with the occasional wet line, but again needs to cut to the chase on the gags a lot quicker. Edit pencils all round!
Review date: 31 Oct 2017
Reviewed by:
Recent Reviews
What do you think?