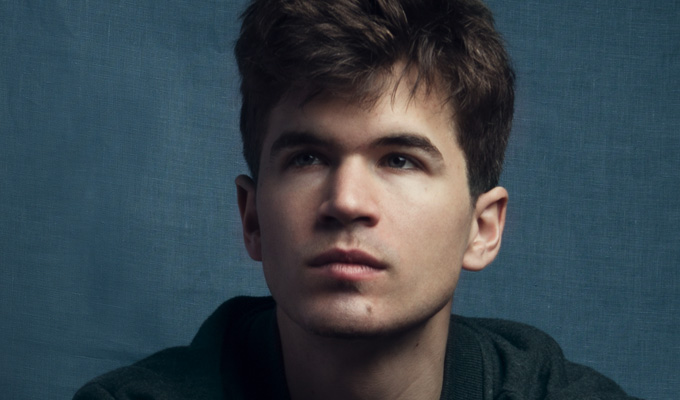 Ivo Graham: Educated Guess
Comedy, like acting, is getting posher… and Ivo Graham is one of the poshest of the lot given that he was educated at Eton, which he feels he has to come clean about early doors. It's hard to hide given that his background is the source of most, if not all, of his comedy.
In some ways he's following in the patent leather brogues of comedians like Miles Jupp and Will Smith (the white one), serving up a heightened stereotype of what we expected from the rarefied rich.
With a mastery of book learning, but zero street smarts, he's socially adrift outside strict parameters. Not that this stops him using phrases like 'cray-cray' or 'leave those bitches hanging' with heavy irony.
A 'stickler' is probably the best way to describe him, with everything in his world having to abide by the rules. He gets his thrills by renewing a Young Person's Railcard minutes before the deadline, that's as close to the edge as gets.
The awkwardness is ramped up in this accomplished show, which since its Edinburgh Fringe run has picked up a fresh and funny preamble about the last days of the old £1 coin… material which, aptly enough, will be spent soon, too.
Once he kicks off proper, Graham draws on the ignominy of holidaying with his parents at 26, his continuing disbelief that he has managed to snare a long-term girlfriend and a cringe-inducing teenage appearance on The Weakest Link in 2009, among others
His social maladroitness in real life is contrasted with his skill on stage – convincingly proven as he nimbly rolls with the punches of a few peculiar audience interactions, mainly thanks to the intervention of Phil from Henley. Served with a generous side of self-deprecation, such freeform banter is nevertheless at odds with the rigid persona he's projecting in a tightly storyboarded show, though even better for being so surprising.
The posh-but-useless archetype – like all archetypes – can be a bit limiting, and Graham doesn't really add much in the way of hidden depths or surprising twists, while the modesty becomes something of an inhibitor on his performance.
Yet the writing is top-notch, packing in gags and inventively wry turns of phrase, some almost slipped in under the radar. Occasionally sentences are phrased with the rhythms of James Acaster, but not so much as to be a clone.
To help Graham outline his limitations is a loose thread based around a reunion with three of his old school chums, contrasting his existence as a struggling comic with their lives that have followed more traditional routes for Old Etonians.
While they are fervent capitalists, Graham positions himself as a Champagne Socialist - jokily acknowledging that while he may be happy to talk the left-wing talk he would be very wary about entirely smashing a system that has given him so much.
Through his cleverly intertwined stories, he builds to a climax in which he gets to show off the arcane knowledge learned at the expense of a social life – a finale which is by his own admission more impressive in its niche way than it is funny. But impressive, too, is the gag count in this well-built show, that ekes much from elitism and its disconnect from the real world.
He may have had a life of privilege, but now it's the audience who are privileged to hear him.
• Ivo Graham: Educated Guess is at the Soho Theatre at 9pm until Saturday.
Review date: 18 Oct 2017
Reviewed by: Steve Bennett
Reviewed at: Soho Theatre
Recent Reviews
What do you think?