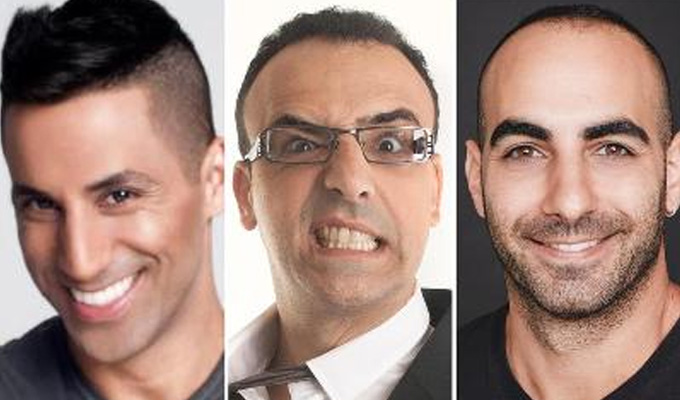 From Israel with Laughs...
Note: This review is from 2017
Shahar Hason Is a big deal in Israel, but London's a different kettle of gefilte fish.
So here he is but one third of a bill of Tel Aviv comedians, performing in an intimate if functional room in Covent Garden. Certainly some who came to the show already know his work, and gather for the obligatory selfies afterwards. But as well as fans, the audience was cosmopolitan: French, German and Iranians all identified among the Brits; with the Jewish contingent understandably predominant.
Hason, left in the picture above, is still new to performing in English, rather than Hebrew, but while he might have battled with the language, his comedy instincts are beyond question.
In fact, the his struggles in finding the right word add an extra desperation: frustration with the language matching his frustrations with the ridiculous world he observes. And it's in keeping with his terse, nervous energy, delivering material like a nimble boxer swooping in for lots of quick jabs against a more powerful, lumbering opponent. There's a dynamic physicality to his performance – boasting a youthful spirit that belies his 41 years – but it's restrained form of power.
Material is lively, too, as he plays on the poverty of his youth, making light of the cheap chocolate and cigarettes that was all they could afford: brand names evoking a recognition in some quarters similar to Peter Kay's reminiscing about Rola Cola to a British audience.
His descriptions are vivid, from the ignominy of wearing hand-me-down clothes to the very specific image of travelling in the back of a family car, clutching a hot dish and trying to pop up an elderly relative at the same time.
Other material is less distinctive, such the 'people think I'm a terrorist because I'm brown' routine, as well as his move into the dirty material about blow jobs and penis sizes, but his animated delivery and easy likability goes a long way.
Such content was a contrast to first-half act Yossi Tarablus, pictured centre, who kept thinks clean and family-friendly, though he, too, exudes an affable nice-guy charm.
It's a fairly traditional – sometimes a little safe – routine largely drawn from his experience as a father-of three. He complains about the expense of baby formula and nappies, while portraying his boys as reckless tearaways compared the angelic daughters of his friend.
Tarablus, who was on Last Comic Standing in the States in 2008, sticks quite closely to gender stereotypes, with routines about nagging wives and laughing at the very idea that his Mrs could also be his best friend.
It's as slickly and professionally delivered as you would hope from someone aiming so squarely for the mainstream, which makes it a solidly enjoyable set.
The night was MCed by Yohay Sponder, who didn't indulge in too much traditional compere's banter – a few moments of flirting notwithstanding – in favour of delivering his own material.
He offered the only moment of politics in the show – and it was just a moment – when he stated that the Israelis will compromise almost anything for peace, as opposed to the unwavering Palestinian demand for 'death to all Jews'.
Sponder also served up a few insights into the Israeli psyche, from not pulling over for ambulances the arrogance of ignorance. 'We don't know what we don't know,' he said, subconsciously channelling Donald Rumsfeld's phrase about 'known unknowns and 'unknown unknowns'.
But away from his homeland, he also proved that some comedy topics are universal – public toilets, smoking weed – in a performance which covered a lot of ground with mixed results, with stand-out routines alongside some that are point more pedestrian.
As if to prove the point, was a section taking the Scriptures literally and through modern eyes is a proven comic formulae. But in Sponder's hands, the new perspective on God pranking Abraham over the sacrifice of his son is effectively executed. Unlike Isaac.
Review date: 4 Oct 2017
Reviewed by: Steve Bennett
Reviewed at: Seven Dials Club
Recent Reviews
What do you think?