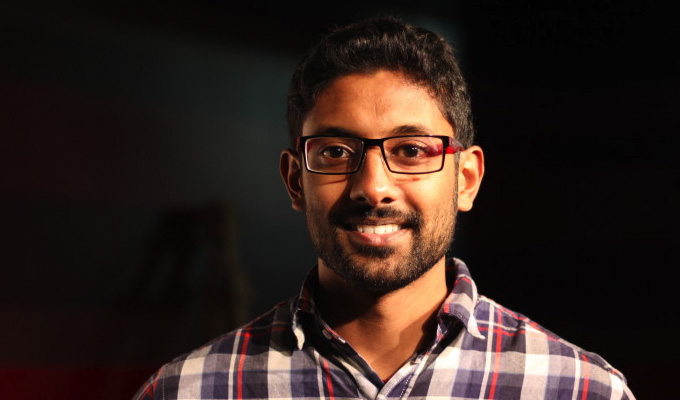 Hari Sriskantha: Clown Atlas
Hari Sriskantha opens with some wry material about mispronunciations of his name, of being mistaken for that other Tamil Sri Lankan stand-up Romesh Ranganathan, and of the comic who failed to remember him, despite spending nine hours, largely alone in his company. For he does have something of the unmemorable and bland about him.
Although he worried about how his parents would react to him marrying a white girl, with little cause as it turned out, you cannot imagine any such anxieties on the part of her family. Clean-cut, droll and intelligent, he seems about as perfect a son-in-law as a comedian with a useless degree in theoretical physics, entirely inapplicable to an actual job, might be.
Indeed, he comes across as rather too content and well-balanced, irrespective of his parents' divorce, so has to manufacture insecurities and try out different types of stand-up, with various degrees of success, as he struggles to find his voice.
His racial identity informs this to a limited extent, as he perceives increasing racism and feels threatened by random groups of white men, while being impressed by Aziz Ansari's depiction of second-generation experience in his sitcom Master of None. There's some entertaining pique in the lack of wedding cards applicable to his mixed race union, too. But it's a rare bit of grit in some otherwise milquetoasty reflections.
He's a little bit nerdy, setting up physics and literary jokes to get more laughs with their relative geekery rather than their content. And he's very much a beta male. His stand-up origin story is the archetypal tale of trying to impress a girl, and he suggests why he wouldn't survive long in an apocalypse.
Maybe he'd do best to embrace his nerdishness though, because when he contrives a clunky but clever 'bees and terrorists' conundrum, it's one of the few take home moments.
The oddest aspect of this show is his take on Mo Gawdat's mathematical formula for happiness, the basis for his bestseller, Solve For Happy, taking five of the six illusions the book suggests as obstacles and turning them into a tale about a cavewoman entrepreneur, suddenly recounted in blue light with a soft jazz soundtrack at various points throughout the hour.
I have absolutely no idea what his intention was here as these lengthy scenes are fitfully amusing but conveyed with the import of something grander. In desperation I found myself Googling the high-concept book and film Cloud Atlas alluded to in his show title, which I've never seen nor read and have only a passing awareness of. Yet I'm still none the wiser.
He has a stab at satire with some audience interaction and stats on the disparity between the perceptions and realities of benefit fraud and the percentage of the population that identifies as an ethnic minority. But it's delivered by rote.
The crowd-pleasers are his proposal story, which you can imagine landing well at the wedding, and his relatable incredulity at the price of the ceremony, the seemingly arbitrary costs attached neatly encapsulated by his winning account of the ring shop.
As I say, obviously smart, seems like a lovely bloke and can hold a room. But I'm labouring to identify what Sriskantha has that can set him apart. And I wonder if he is too.
Review date: 28 Aug 2017
Reviewed by: Jay Richardson
Recent Reviews
What do you think?