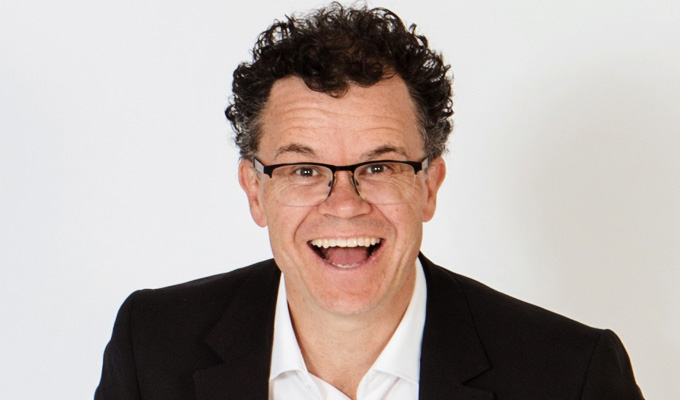 Dominic Holland: Eclipsed
Note: This review is from 2017
Dominic Holland has several variations on the same joke in his Edinburgh comeback. He's been a stand-up for 25 years, and here he is still on the Free Fringe.
On his festival debut in 1993 he scooped best newcomer and was hailed as an undiscovered star of the future by critics, and here he is still on the Free Fringe.
Most significantly, his 21-year-old son Tom is in Canada filming sci-fi thriller Chaos Walking opposite Daisy Ridley, as well as being in cinemas everywhere as the new Spider-Man. And here Dad is still on the Free Fringe, even if is the nicest room they've got.
Holland is aware that plenty of people have come because he's Spidey's father. A man in late middle-age in the front row says he's seen the blockbuster 20 times. That's worrying. So the comedian intersperses the tale of Tom's unlikely rise from a normal middle-class family to a peak of Hollywood fame with more conventional stand-up routines about his ageing body and idiotic behaviour.
Tom's story is essentially a series of lucky breaks he was never expected to get, not the product of a pushy family. Dominic is keen to stress that as a working stand-up he's hardly got the showbusiness connections to make his son famous. Because if he did, you guessed it, he wouldn't be here on the Free Fringe.
The other component of the show is as classy as you would expect from a comic so long in the game. He's got a bulletproof command of the room, perfectly honed timing at material that will resonate with a middle-class, middle-age audience that would also love Michael McIntyre.
How middle class is Holland? Let's just say that he's got a gag about buying artisan chutney from a National Trust gift shop, so he's probably not ITV2's key demographic.
At 50, it's more about prostate exams and his wife's pelvic floor. He's got gags about the difference between men and women, going to the garden centre, picking up his dog's poop and being baffled by the TV controls. It's all familiar stuff, but maybe three times out of four he's got a distinctive gag on each subject, even if it's more dependable than exciting.
The elegant delivery means he's got a reputation for being a smart man – a notion he's quick to disprove with a wince-inducing story of how he wound up in hospital, after making the dumb decision to ride another of his son's scooter down a steep hill after the school run.
It all goes to show that Tom might be spinning the webs, but Dad is the one who can spin the stories, his accomplished delivery wringing the best from his domestic yarns.
Review date: 23 Aug 2017
Reviewed by: Steve Bennett