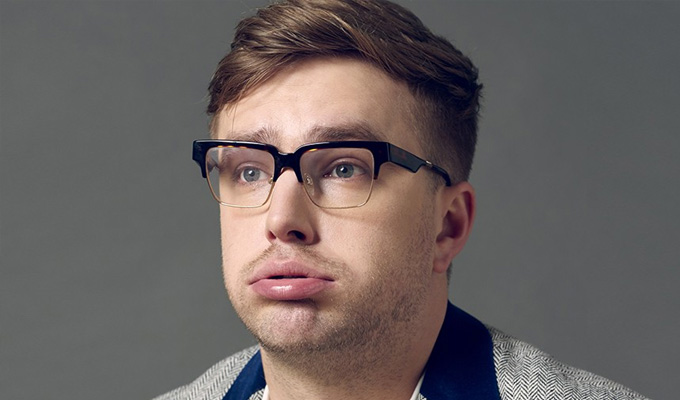 Iain Stirling: U OK Hun? X
Note: This review is from 2017
As the voice of Love Island, Iain Stirling has become a David Attenborough for fuckwits, observing their strange mating habits and reporting back to the rest of us. His sarcastic commentary has certainly worked out well for him, the guilty pleasure of millions enabling him to sell out his Edinburgh Fringe run before the festival had even started and even add a couple of extra late-night dates in the 750-capacity Pleasance Grand.
'This is the biggest gig of my life,' he says at the first one – genuinely excited to be doing so well in his home town. Though he doesn't seem quite so relaxed on the massive stage, walking from side-to-side, with a little more restlessness than the McIntrye strut.
After a good smattering of Edinburgh references to win over the locals, a certain ITV2 reality show has to be addressed. Mere mention of the name gets a huge cheer, and Stirling goes on to quip about the contestants not being the sharpest tools in the box. Non-viewers will be baffled by some of the in-jokes, though I gathered that the water bottle from the show is something of an icon… it's probably because it's got more personality and less plastic than the competitors.
Stirling is repeatedly drawn back to the Majorca villa, pleasing the fans, between bouts of a more traditional stand-up show about how, approaching 30, he's being forced to face the reality of growing up, not least as friends keep peeling off to settle down and breed.
It's a common trope for comics around that milestone, but his take on pals airbrushing their embarrassing past and ditching long-serving friendships for baby-come-latelys – as well as getting all grown up and sensible about their booze intake now they host sophisticated suburban dinner parties – has an authenticity that produces some pointedly sardonic punchlines.
And while his TV work gives him a couple of solid anecdotes – including his closer about an aborted pilot for a kids' version of Live At The Apollo – but there's also a hint that behind the breezy on-screen presence and personable on-stage nature, there are few more troubling thoughts that bob around his head. The very title U OK Hun X? would suggest there's more to be said on the subject.
While Stirling professes live comedy to be his first love, it appears as if he hasn't quite squared how to do frank and fearless stand-up with the expectations of an audience who know him for something else entirely. His first show in that situation offers a portal between the two worlds… but it also feels like there's more to come from a comic who's certainly got a lot more depth than the soon-to-be sickeningly wealthy 'celebrities' whose sexual activities h comments on.
Review date: 17 Aug 2017
Reviewed by: Steve Bennett
Recent Reviews
What do you think?